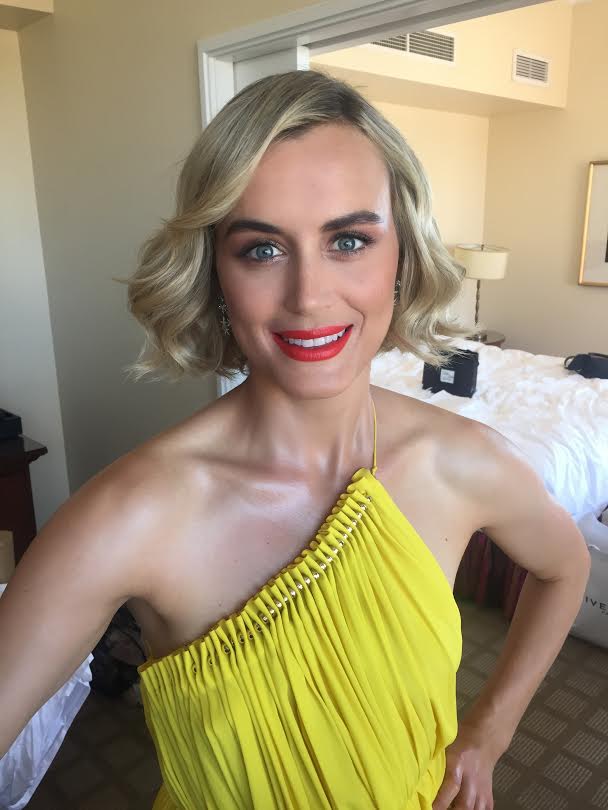 Taylor Schilling's fresh yellow frock was complimented by a modern bohemian makeup look created by makeup artist Hung Vanngo. Here are the steps that makeup artist Hung Vanngo used to create the look.
To prep the skin, Vanngo applied Charlotte Tilbury Goddess Skin Clay Mask on Taylor's face and neck for 10 minutes to tighten, smooth, hydrate and give skin an extra boost of radiance.
Charlotte Tilbury Magic Cream was used generously on Taylor's face and neck. Vanngo really massaged the Magic Cream into Taylor's skin for the perfect amount of moisture.
Vanngo prepped Taylor's eyes with the Charlotte Tilbury Mini Miracle Eye Wand (launching at CharlotteTilbury.com today) by using the wand around the eyes to give a lively and bright look. The Mini Miracle Eye Wand is 8 hours of sleep in just two clicks and is the antidote to tired, dull, and exhausted under eyes.
Vanngo then applied a sheer layer of Charlotte Tilbury Wonderglow all over the face, avoiding the t-zone area to give Taylor an extra dewy glow. Wonderglow is a red carpet essential as it fills in wrinkles and scatters light to blur away lines and flood the skin with luminosity.
Charlotte Tilbury Light Wonder Youth-Boosting Perfect Skin Foundation in Shade 3 was used to even out Taylor's complexion.
Vanngo then used Charlotte Tilbury The Retoucher in Shade 2 for under the eyes areas, around the nose and to cover a few minor imperfections.
"Taylor likes her brows full and well-groomed," says Vanngo, so he used Charlotte Tilbury Brow Lift in Brooke Sto fill in and define the shape.
Vanngo used CK One Color 100 Neutrals Redefined Powder Eyeshadow Palette on Taylor's eyelids. First, the shade "Honest" was applied all over the upper and lower eyelids and then "Impulsive" was applied on the crease area to create depth. With an eyeliner brush Vanngo drew a thin soft line with shade "Heartless" along her upper lash lines to further define the eyes.
Two coats of CK One Color Volume Mascara in Extreme Black were applied on Taylor's upper lashes and one coat on the lower lashes to make Taylor's eyes pop.
To bring out Taylor's beautiful cheekbones, Vanngo used Charlotte Tilbury Cheek to Chic Swish & Pop Blush inSex on Fire. Then he added the limited edition Charlotte Tilbury X Norman Parkinson Dreamy Glow Highlighter on top of the cheekbones, top of nose and the forehead to capture the light and radiate it out across the skin, creating a soft-focus effect.
To give more dimension to Taylor's face, Vanngo applied Charlotte Tilbury Filmstar Bronze & Glow with a large brush around her jawline and forehead. The bronzer is the perfect universal blend of pearl and pigment to mimic a sun-kissed complexion.
Vanngo prepped Taylor's lips with Charlotte Tilbury Lip Magic, then lined her lips with Lip Cheat Pencil in Kiss 'N' Tell for the perfect pout.
To complement Taylor's Stella McCartney dress, Vanngo used the hydrating and long-lasting Charlotte Tilbury Matte Revolution in 1975 Red. He chose the "beautiful coral red shade" to create the illusion of fuller, wider lips that look lit from within, and added dimension to Taylor's lips.
To finish Taylor's face, Charlotte Tilbury Airbrush Flawless Finish Powder in Shade 2 was applied only to her t-zone. The super luxe powder is a must-have for the red carpet because of how finely milled the powder is. The breathable, micro-fine powder blurs away lines and imperfections, and gives an immaculate complexion with a bright, illuminating finish.
Finally, since Taylor showed some skin, Vanngo used Charlotte Tilbury Supermodel Body all over Taylor's limbs to give her a gorgeous, sultry glow. Supermodel Body acts like shapewear lingerie for the skin, sculpting contours and highlighting to create the illusion of longer, leaner limbs.