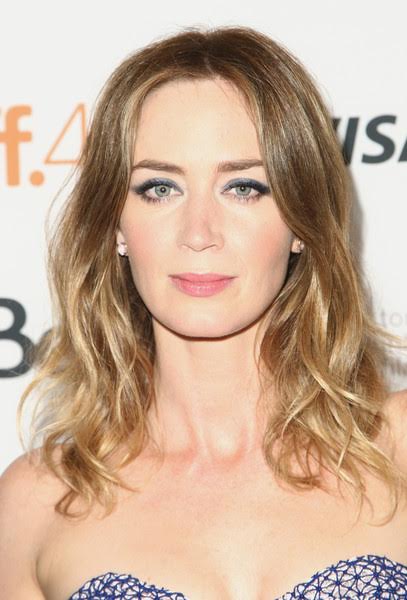 Celebrity makeup artist Jenn Streicher created Emily Blunt's look with Votre Vu cosmetics for the screening of her film Sicario at the Toronto International Film Festival. Here, the beauty breakdown, straight from Jenn.
"I always start working on the eyes first, because you don't want to have to fix smears or mistakes later. I applied Votre Vu Le Joli Crayon Soft Eyeliner in Marine directly to the lash line. I feathered it out with a brush to create a soft cat eye and impart a smoky effect. I finished with many coats of black Diorshow mascara on the bottom and top lashes. Emily prefers not to wear color underneath her eyes, so the mascara gives her definition there.
I smoothed Laura Mercier primer over her complexion, and followed with a light-reflecting foundation and a pinky-peach blush from Chanel. Her dress is strapless, so I reached for my new secret weapon: Votre Vu Silk Stockings Picture Perfect Leg Lustre. I massaged that allover her décolletage and arms to get her glowing.
I added Votre Vu French Kiss Lipstick in Lulu, a soft blushing pink, to bring out undertones of the dress. Right before she exited the car, I added a final touch of Votre Vu Lip Lustre in Charming."