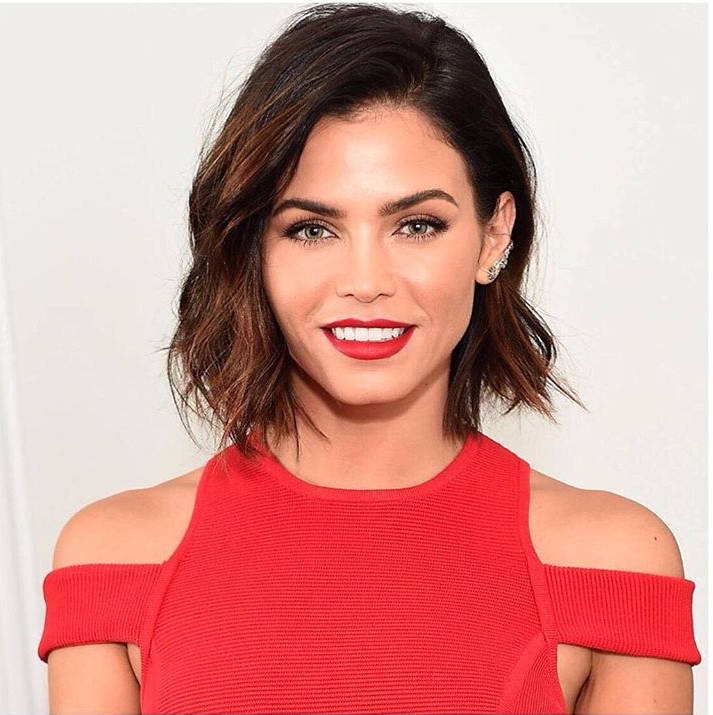 HAIR
Bridget Brager did the hair honors for the lovely Jenna Dewan Tatum at the A List 15th Anniversary Party on Tuesday, September 1st in Beverly Hills. Said Bridget, "Jenna's red dress and hot red lip were meant for a cool and simple textured hairstyle to keep the finished look young and fresh." Here, the step by step to get the look.
"I prepped Jenna's hair using R+Co Rockaway Salt Spray directly on the roots on the top of the head only. Next, I used a diffuser to bring out her natural texture and wave. After her hair was dry, I used a T3 Whirl Trio Interchangeable Styling Wand for the waves.
Using the largest barrel, I picked up 1-inch sections of hair around her face and randomly throughout the hair, and lightly bent back. To finish, I used Bumble & Bumble Dry Spun Finishing Spray for texture and volume."
MAKEUP
Makeup artist Patrick Ta created Jenna's gorgeous red-lipped makeup effect for the event.  Says Patrick, "Jenna loves color, and it loves her. I always have so much fun doing Jenna for red carpets because I always wonder what color she'll wear next! For the A List event, she wore a red cocktail dress, so obviously we had to do a red lip to tie the look together. Also, red is Jenna's favorite lip color to wear." Here, the beauty breakdown.
"Armani Designer Lift was my foundation of choice for this look. To conceal, brighten and highlight under the eyes, I use Chanel Color Correction Concealer, also one of my all-time favorites. To contour, I used Armani Liquid Shimmer Bronzer. I finished her off with La Mer 01 Translucent Powder and a powder highlighter from Becca Cosmetics on the high points of her cheekbones.
EYES:
Doing a bold lip usually calls for a lighter eye, so I just used brown tones, starting with Anastasia Eyeshadow in Fawn in the crease and a darker matte brown in the outer crease.  Next, I curled her lashes and applied two coats of mascara for fullness and topped off with Ardell Individual Lashes.
LIPS:
My choice of red tonight was Kat Von D Liquid Matte Lipstick in Outlaw!"
What do you think of this look on Jenna Dewan Tatum?