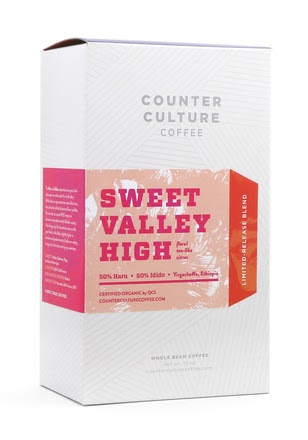 Who can't get behind the fusion of two of life's most wonderful things, coffee and Sweet Valley High? The only way to fully encapsulate my feelings is to use another fantastic high, that of  Summer Heights parlance: This is quiche, you guys.
Counter Culture Coffee debuts its newest limited-release coffee, Sweet Valley High, today. No, it's not sourced from the fictional town (though that's a sci-fi slant I'd like to see — side note — get into Wayward Pines, the best sci-fi show I've seen in YEARs). It's actually sourced from two cooperatives just a few miles apart on either side of a small valley in Ethiopia, Sweet Valley High is a 50/50 blend of Haru and Idido — resulting in a floral, tea-like coffee with citrus notes and a juicy sweetness ($17.25/12 oz. box).
Sweet Valley High coffee will be available for a limited time and all will come in Counter Culture's redesigned and recyclable paper box through the end of October.