Keeping your skin exfoliated in the summer is its own special project, but the benefits are myriad. By sloughing off dead skin cells, you reveal smoother, brighter skin; provide a better self-tanner base and prevent ingrown hairs (sexy!). Here's my trusty method for exfoliating skin with Body Benefits products, available here for under $6.
How To Get Glowing Skin Tutorial
Start in the shower but BEFORE you turn on the shower. Exfoliation works best on dry skin. If you want to multitask, wash and condition your hair first, then dry off, allowing the conditioner to sink in under a shower cap while you exfoliate.
Use your favorite scrub and apply to your limbs and stomach using the Body Benefits Skin Toning Body Massager. Apply less pressure on your upper body/torso and more to your arms and legs.
Apply scrub to your back and use Body Benefits Luxury Net Bath Brush.
Start your shower and rinse it all off, then go about your regular cleansing routine.
Dry off, apply self-tanner or lotion and revel in your gleamy skin!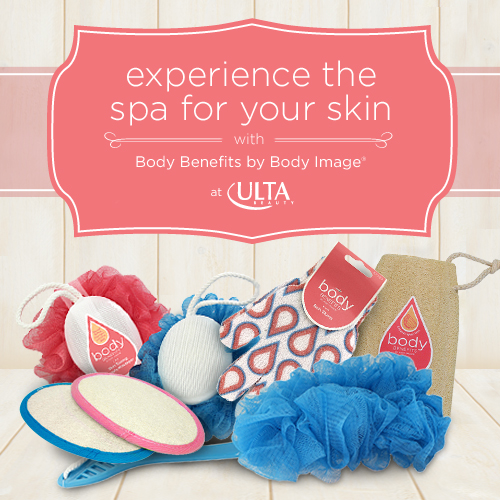 Giveaway
Want to enter to win your own kit chock-full of Body Benefits products? The kit includes:
Bath Gloves: These gloves are great for cleansing and exfoliating. They gently scrub your body squeaky clean while the textured nylon provides an invigorating cleansing, leaving you fresh and fabulous!
Luxury Bath Brush: This amazing brush is designed with extra-plush netting…great for cleaning your back and other hard-to-reach areas, giving you glowing skin from head to toe.
Natural-Fiber Loofah: Loofahs are excellent for helping you retain your skin's radiance. Delicately remove dry or flaky skin to give your body an invigorating clean!
2-in-1 Loofah Body Buff: This product not only exfoliates your skin, but buffs and cleans for a fresh, polished look.
Skin Smoothing Beauty Massager: This sponge creates a rich lather to help smooth and polish, revealing soft, young-looking skin.
Plus, it includes a $250 ULTA gift card to use for an exclusive day of pampering at The Salon at ULTA, including waxing, facials and more!
To enter: 
Follow me on Instagram (@rouge_18) and like the Body Benefits video. Then, comment and share your own tips for re-creating a spa experience at home.
Comment on this blog post and share your favorite exfoliation method.
That's it! One winner will be chosen and announced on Friday, May 29. US entrants only. So share those tips today for your chance to win big. Follow the conversation with #spa4yourskin and #ULTA.
Post sponsored by Lunchbox. Opinions are 100% my own.