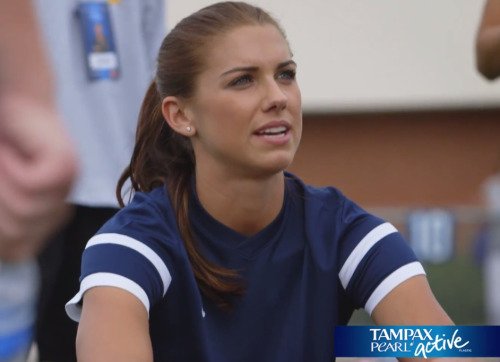 Because periods should never hold you back, Tampax Pearl Active has teamed up with pro soccer player Alex Morgan (who has
THE coolest cover photo on FB
) to give girls the confidence to get off the sidelines and into the game. I recently had the privilege of sitting down with the gold medalist to talk soccer training, her partnership with Tampax, and beauty.
On training for this summer, Alex mentioned how the opportunity to play in the World Cup doesn't come around often. Taking place just every 4 years, which she points out is a pretty long time in an athlete's career, the World Cup is huge, and so Alex focuses on playing soccer and loving it every day as crucial to staying motivated.
Her partnership with Tampax Pearl Active came about from her mission of inspiring young women. Alex says she takes being a role model seriously, especially because the girls that she speaks to look up to her. This is why confidence is key for her, and she encourages girls to build self esteem from the inside.
Alex's go-to beauty products have to match her active lifestyle, and she mentioned "SPF and waterproof" as the two most important factors in any products she uses. She loves the sweat-resistant, waterproof qualities of 
COOLA
 products (and that they're organic and paraben-free!), and has been swearing by 
Total Hydration Chapstick in "sweet peach"
, a tube of which she pulled out her pocket while talking to me!
Check out a video featuring Alex, who is so captivating and inspiring, practice with some adorable girls below and be sure to keep an eye out for her during the 2015 Women's World Cup this summer.
—Sara Veljic