If you follow me on Insta, you already know that I take time at least once a week for a bath. What's not to love? I put my phone on silent (after snapping a pic of the decadent bubbles), light a bunch of candles, and basically zen out for half an hour in my own aromatic oasis. Because taking a long bath everyday isn't feasible for most of us, Suave makes it possible to experience a spa moment with every shower thanks to the new Suave Professionals Sea Mineral Infusion collection. Here's how.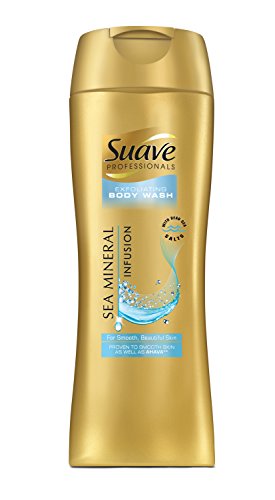 Celeb esthetician and skincare expert Joanna Vargas recommends exfoliating skin with a body brush once weekly for about five minutes to open up pores before hopping in for a shower. This technique also improves skin's elasticity and removes dead skin cells. Once in the shower, lather Suave's Sea Mineral Infusion exfoliating body wash all over. The body wash is filled with Dead Sea salts and works to gently polish away impurities and leave skin silky smooth. I like to apply a small dollop to my bath pouf for a more even application and to lather it up into a really luxurious foam that helps to release its refreshing scent. As soon as you're toweled off, follow up with the Sea Mineral Infusion spray lotion to for luminous and moisturized skin. The sheer, lightweight formula absorbs instantly and works to keep skin healthy and beautiful. You'll feel like you just got out of a spa treatment. Use these two Suave products for a spa day every day, in the comfort of your own bathroom! 
The full Suave professionals line is available at Suave's site and major retailers nationwide.