Think healthy food is too much work? Isn't yummy enough? Feels like this?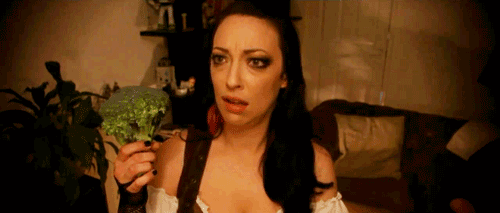 It shouldn't, because here are 5 simple to make superfoods, all of which you can find in Whole Foods. 
1.     "Cheezy" kale chips. A two-year-old girl recommended these to me, so there should be no doubt in your mind that they are delicious. Can't taste the kale at all. Raw. Vegan. Gluten-free. Amazing.
2.     Raw almond butter. You haven't lived until you've tried a raw nut butter, and yes, they do taste totally different from regular nut butters. Raw, vegan, gluten-free. I tried it for the first time at this fantastic NoLiTa vegan restaurant.
3.     Banana ice cream. It can be as basic as one ingredient: bananas. It can also be peanut butter ice cream (add a dollop of PB). Try to control your salivary glands as you watch her make it! Raw, vegan, and gluten-free.
4.     Red Quinoa. Easy to make and beautiful to look at, with a nutty, light flavor. Add anything to it. Vegan and gluten-free.
5.     This one is a bit of a cop-out, but it's still a relatively healthy alternative, for an orgasmic chocolaty dessert: Hail Merry Miracle Tart. Raw, vegan, gluten-free.
What are your favorite healthy foods to make in the winter?
—Catherine