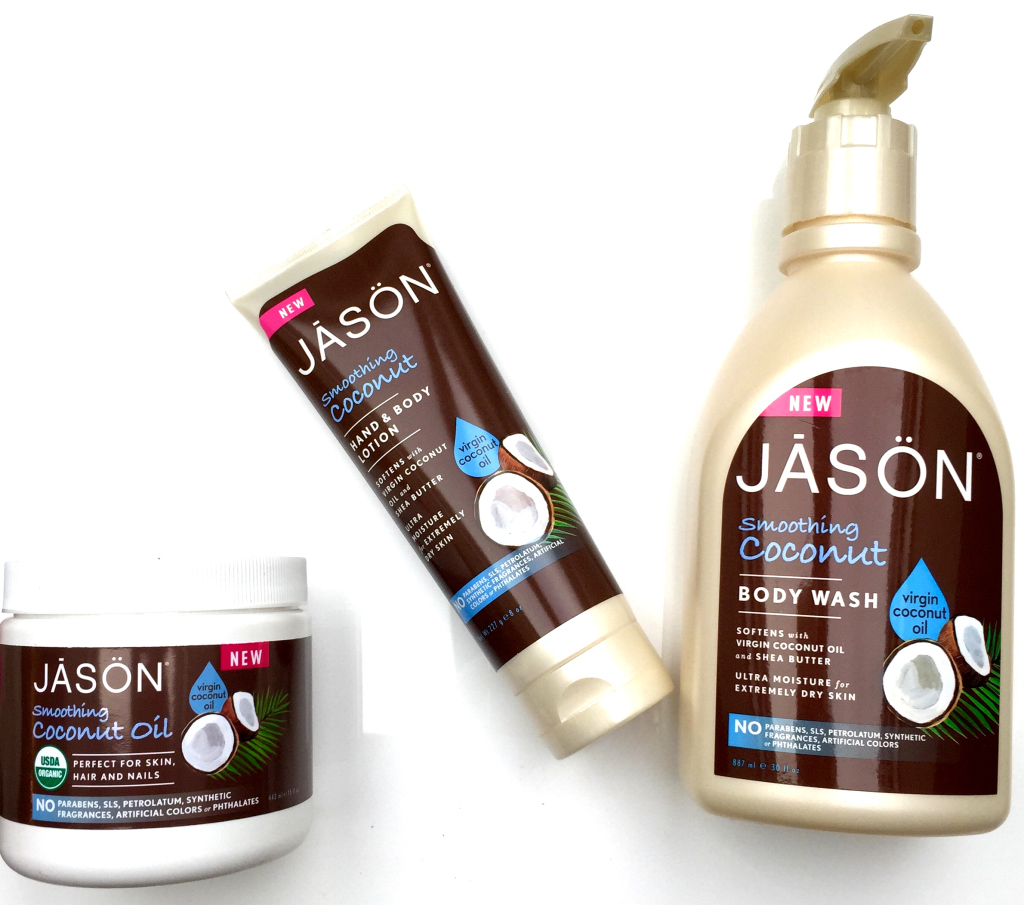 You'd have to be living under a rock, beautywise, to miss that coconut oil is currently experiencing Regina George levels of popularity. Between oil pulling, pre-wash cleansing oil usage and yielding ample hydration in moisturizers, this multi-talented ingredient does it all. One of my latest ways that I incorporate coconut oil into my lifestyle is with the  JĀSÖN®  brand's new Skin Smoothing Coconut Collection, which includes:
Smoothing Coconut Body Wash ($16), a lush hydrating cleanser packed with coconut oil (obv), shea butter and vitamin e, leaving my skin smooth and moisturized enough to skip moisturizer if I'm in a rush.
Smoothing Coconut Hand & Body Lotion ($10), because in the summer, it's cute for me to skip lotion, but during the colder months, that situation's far less negotiable. This subtly scented, slightly viscous lotion boasts the faintest pina colada sillage, recalling beach days and calmer climates.
Smoothing Coconut Oil ($11), an unrefined, 100% organic pure coconut oil featuring vitamin e and antioxidant polyphenols. I use it on my cuticles, in lieu of lip balm and to smooth fly-away strands.
The best part is that JĀSÖN® products are free from harsh chemicals and preservatives; there's no worry about what you're absorbing into your system. All of their products are free of Parabens, Sodium Lauryl/Laureth Sulfates, Petrolatum, Artificial Colors, and Phthalates.
I'm a longtime fan of the JĀSÖN® brand and have used it since discovering a fantastic shampoo at a health food store as a child. It remains one of my favorites to date.
Want to enter to win a package of JĀSÖN®  Smoothing Coconut Oil products, including Coconut Oil, Coconut Hand & Body Lotion and Coconut Body Wash? There will be one winner, US only. To enter, follow me on Twitter (@Glambr) and tweet about your favorite/most unique way to use coconut oil using the hashtag #LocoForJASONCoconutOil. The deadline is Friday, November 14 at noon. Winner will be announced on this post the next day.
JĀSÖN®   products are available at at natural food stores, Whole Foods Market, and at jason-personalcare.com.
This post is sponsored by JĀSÖN®. All opinions herein are my own.