Felicia went into full detail about how unbeknownst to us, our Phuket hotel, Foto Hotel, is, in her words, "a bucket and a dish pail of fail." I have to agree; between the food rationing on par with Red's starving out Piper Chapman circa season one of Orange Is The New Black, zero flat land on which to run outside (though living on a verdant cliff in a modern, minimalist gray-styled pad does make me feel like a Cullen in the best way) and its cab-ride distance (albeit short) into town to be with all my Thai beauty products, this place is as polarizing as a guy I once dated too many times. What I liked about him, I adored; what I hated I straight-up LOATHED. The black and white cookie of feelings I harbored for him made me honestly wonder if he roofied me every time I hung out with him, because 48 hours later, I was back to level-ten hate, Dorney Park ROLLER coaster-style. Fauxto Hotel, indeed. Here are the 6 things you need to know before booking a vacation here.
It's Secretly Fat Camp
My favorite food is French fries. I avoid them like the plague for fear I'll relapse into an addict of Requiem For A Dream proportions. Imagine the quiet hell that is being served a Barbie-sized portion of protein and a ramekin containing FOUR fries, which you cannot substitute for salad as that is not the same same to the Thai. If you don't arrive at the single on-campus restaurant by 9:59p, you won't be served dinner, despite their closing at 11p. If you show up at 6:30a on the dot for breakfast, when the joint opens, because your insides are eating themselves, be prepared for major side-eye from the staff. Again, as I said before, I'm involved with a completely different relationship with my clavicle, so I don't know if I hate this. The Foto Hotel's tagline is "Different Memories," and it's proving to be a self-fulfilling prophecy regarding my hip bones. I haven't seen these since the late '90s.
The Photography 
Yes, I know I should have known better staying at a hotel called Foto, which boasts the cutest, hipster photography theme. The clientele here, though. Full-on staged photo shoots with elaborate lighting, thousands of takes and set styling to the nth degree mean you're constantly in someone's photo and for an introvert, feeling unwelcome and you have nowhere to be is uncomfortable. It's a cultural adaptation I need to make, I realize. But it's a rough adjustment for the moment. I have photigue.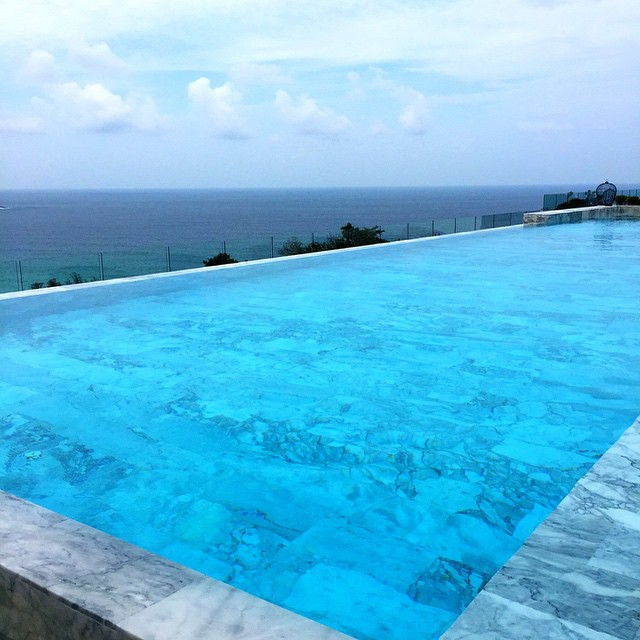 Gorgeous Decor And Scenery
A neutral palette of gray, black and white is the visual equivalent of a mental shower, while black and white gingham stuffed bears punctuate the pad. There's a gorgeous verdant veranda view providing the exact juxtaposition my inner wood nymph needs. My inner water nymph swims 20 laps a day in the neon aqua endless pool overlooking a cliff set against cerulean ocean dotted with exotic Asian greenery.
Unlimited Bottled Water And Apples
The official diet of anas everywhere.
Be Prepared To Live In A Pinball Machine
When we first arrived, we were taken on a ride through what was one scary slide-esque ramp down to our room in torrential downpour in a golf cart. My knuckles were white from gripping the bar and my luggage. It took a few conversations with the staff before we realized we could simply hike to middle earth (where our rooms are located) via five flights of steps instead of calling a cart to drive us any time we want to leave our rooms. On day 2, the elevator (which is really a funicular/finickular) started working, making everything much more manageable. UPDATE: The elevator/funicular is now out of service.
One Key Card Will Work At A Time
If you're sharing a room, you'll have to be Siamese (I know, this IS SIAM) twins with your roommate, otherwise you're locked out. Only one card works at a time, which means you'll have to hike up multiple flights of steps to activate your card many, many times a day.
Have you had an experience like this? Talk to me in the comments.