I am an ardent fan of moisturizing. The way LiLo looks coming out of the water in that short film by Richard Phillips is how I FEEL twice a day, every day, because of my moisturizing routine. The dewy look of a fresh, clean, lotioned-up face acts as its own coverup, and despite all of the pore-clogging pollutants my skin comes across daily (and the fact that I don't always get those golden 8 hours a night), seeing my face in the mirror with that shiny veneer of lavishness has me briefly feeling that I have the softest, most supple visage ever.
The products in Avon's latest line, ANEW Vitale, are all about restoring your skin to its best natural glow. It's a simple, 3-step system.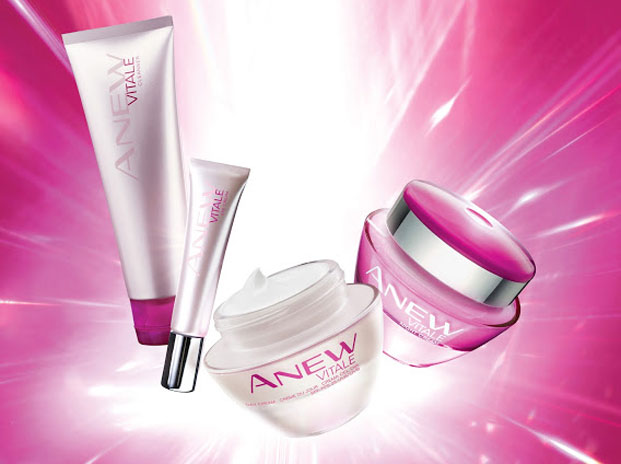 1. Gel Cleanser: Wash your face, morning and night, with this super gentle cleanser. It won't leave your skin dry or irritated, just refreshed, clean, and pristine.
2. Day Cream (SPF 25!) or Night Cream: These creams are infused with Vitale's VitaToneComplex to do the most in moisturizing. One application and your skin is already looking revitalized (so it's okay if you don't always get those 8 hours, either). After a week of regular use, you'll start to see that fall-in-love-with-your-face brightness I mentioned. These creams are also appropriate for all skin tones, so don't worry about discoloration or inefficacy based on your face's color! The ANEW Vitale creams are looking out for you. This cream is the secret to getting as excited about moisturizing as I do.
An added benefit: with each purchase of a day or night cream from the ANEW Vitale line, Avon will donate $5 to Avon Breast Cancer Crusade (up to $1 million!).
3. Finally, the Eye Gel Cream, an instant favorite: Finish your revitalizing regimen with this amazing eye cream, for day and night. My under-eye skin is a little thin, a little discolored, and probably the surest sign of whether I've gotten adequate sleep or not. This cream has already had noticeable effects on the skin around my eyes, and it's a major relief to see that particular patch of skin so bright and even-toned. A huge bonus is that this cream is hypoallergenic and ophthalmologist tested, so it shouldn't irritate sensitive eyes.
That's it! 3 steps, twice a day, and you can get that gorgeous, well-moisturized glow to your skin (and the dew high that comes with it!).
You can find all of the above ANEW Vitale products on Avon's site or through your Avon rep.
—Sara Veljic
Disclaimer: Amber is an Avon ambassador. All opinions in this post are the writer's own.