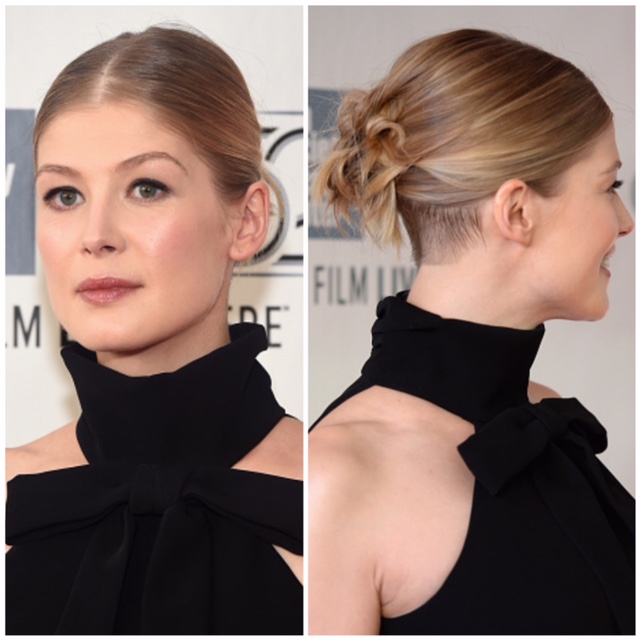 Every bit the Amy Elliott-Dunne Cool Girl, Rosamund Pike shows off a shaved nape and a chic updo courtesy of Kylee Heath for the 52nd Annual New York Film Festival Opening Night Gala Presentation and World Premiere of "Gone Girl" on Friday, September 26th. Here's how Kylee created this hairstyle.
"Starting with damp hair, I sprayed Serge Normant Styling Spray from roots through ends. I created a straight center part and blew dry the hair with my Eco Croc Blow Dryer, starting in the front to really set the part. Once the hair was dry I sectioned off the front sections to pin into place last.
I divided the remaining hair into three horizontal sections and put each horizontal section into individual ponytails. I twisted and pinned the little ponytails into mini messy buns with Burman Matte Mini Bobby Pins. Then I took the front pinned away sections and pulled them back, combing them smooth with a fine tooth comb. I pinned each section blending them in with the mini buns. The point was to have contrast – sleek in the front and a textured style in the back.
I finished the look with Leonor Greyl Light to Medium Hair Spray for shine and hold."
What do you think of this look and ARE YOU GOING TO SEE IT ON OPENING DAY OR WHAT?