Official Mascara Correspondent Ashleigh has proclaimed Smashbox Full Exposure Mascara, $20 at Sephora, a member of the Enormous Brush Club. Does it do the job? Read on and find out.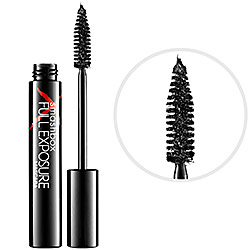 There's no better place to start than to mention that mascara is part of the Enormous Brush Club.  There is an gigantic Christmas-tree shaped brush here but it actually serves a purpose (which brushes this size rarely do.)  With one coat, my lashes are coated from root to tip, inner corner to outer corner.  The product itself has a nice grip and makes it easy to build up curl and thickness.
Because I believe more is better, I went in for coat two.  The issue here is that the mascara dries pretty quickly and I would've done better to apply coat two immediately after coat one.  However, even with the drying, my lashes were thick and had a nice taper.  It goes without saying that an afternoon touch-up wasn't possible, but my lashes still look voluminous and long midday.
The formula took a little extra time at the end of the day (soap, water, eye makeup remover), but I still like the mazzie overall.  While this mascara didn't blow my socks off, it's a good one for your arsenal.
—Ashleigh Ciucci