Official Mascara Correspondent Ashleigh is taking on Youngique Moodstruck 3D Fiber Lashes this week. How does she fare? Find out!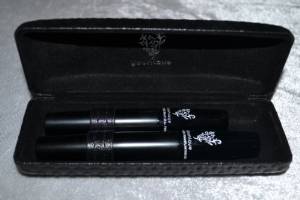 I've said it before and I'll say it again: Fiber Lash boosters are not my fave. They can be flaky, messy and irritating to the eye. The interesting thing about this product is that it's a three-step process to false lash glam.  The formula comes in two tubes, one Transplanting Gel and one tube of the Natural Fibers.  You first apply whichever mascara you choose as the base for the fiber application. Next, you apply a layer of the Transplanting Gel.  This gel is very goopy and thick; the hourglass-shaped brush provides full coverage and even application. Next, you use the next tube (a skinny bristled brush) to apply the fibers. The fibers are very fluffy and almost look like dryer lint and adhere to the transplanting gel easily.  The instructions suggest you use a lash comb to separate the fibers and it's definitely necessary.
My lashes were very long and full but dusty-looking before combing through and separating.  They reminded me of the "tempura lash" look from a few fashion week seasons ago where loose powder was layered with mascara for a bulky lash look.  I can imagine this product to be very useful for those with sparse lashes and fun for those who play with different lash looks.  It's a little extraneous to carry three tubes of product for this falsies effect but it's a great sometime-product to keep in your vanity.
—Ashleigh Ciucci