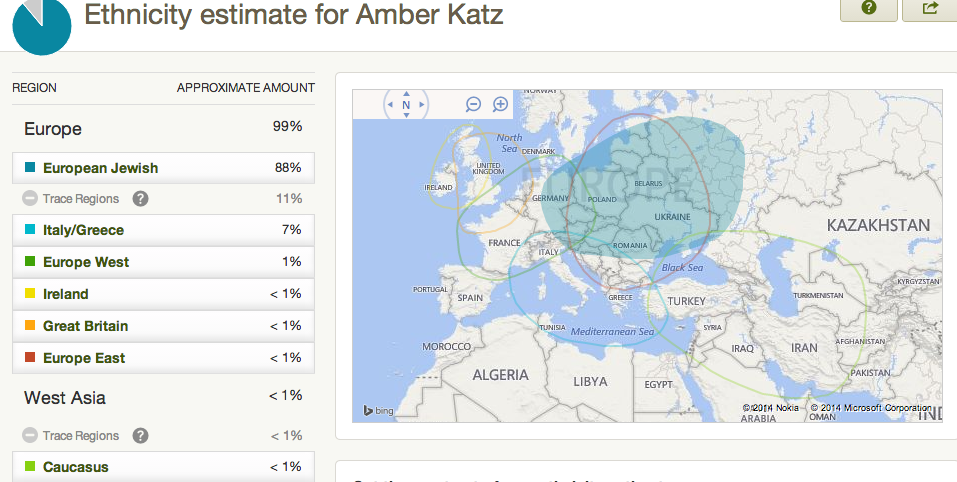 There is a fight of epic proportions going down at the Katz residence (i.e., my parents') in suburban Philadelphia.
The results of my Ancestry.com DNA kit are in and some news was expected and some was WILD. Ancestry's DNA-based test is part of the genealogical surveys at Ancestry.com. It's easy to use: They send you a DNA collection kit, you spit in a tube (estrange yourself from your prissiness momentarily), and put it in the mail. A few weeks later, you get an email with your results. THEN, you make up umpteen romantical sagas in your head of how your ancestors traversed continents and countries for centuries! I'm 88% European Jewish, specifically eastern European Jewish, which was to be expected. Nostrovia to that! My grandmother immigrated from Ukraine in 1924 and is alive to tell the tale. From what I knew of my lineage, it's heavily Russian with a sprinkling of Lithuanian and Latvian thrown in for good measure.
What's fascinating is the TRACE REGIONS! I'm excited that my affinity for all things British from the Beatles to TopShop to Barry M to the beauty mecca that is the perfume room at Liberty (make the pilgrimage if you haven't yet, darlings) is in my GENES, if only in a teensy percentage. I feel very gratified by this. I spent the whole of the '90s watching Monty Python, Are You Being Served and Absolutely Fabulous with my dad, so I'm assuming this is on his side. I'm loving this Irish wildcard, as I've always felt the Irish are fun, fairylike people who are almost always hilarious. This Francophile/French literature major has taken the liberty of deciding that Europe West means I'm of a Gallic people in some small way.
But back to the fight: Barry and Carol Katz are both dying to claim this Italy/Greece heritage and it's possible it's split from both of them, but my money's on my dad. We'll find out when they do their own ancestry.com DNA kits, of course. But my dad and I boast a near obsession with Roman history. I recently passed him my copy of Cicero: The Life And Times Of Rome's Greatest Politician. In high school, nothing was easier for me than Latin, and had to make the devastating decision to pursue a college major that, you know, people of the modern world would find even remotely useful. I chose to become fluent in a tongue in circulation today as opposed to one where I could communicate solely with The Pope in the Vatican. And dare I say, it was a tough decision. I also had a weird fascination with Artemis (the obvious inspiration for Katniss) in middle school to the point where I did a semester-long report on Greek mythology, given the choice of just about ANY subject. I traveled to Greece and Italy for the first time, respectively, within the past 5 years and both were incredible trips. So what I'm SAYING is, bring on the celebratory pasta and feta because I am so down with claiming this 7% Mediterranean situation.
Don't you want to know what's going on with your own ethnicity? You're in luck, because I'm giving away one free kit, valued at $99. It makes a great gift, too! To enter to win, you must be following @Glambr and @Ancestry on Twitter and RT this giveaway. Then, tweet me or comment below and tell me what you are looking for in your own family history. To get an extra entry, follow me on Instagram as well (@rouge_18) and leave a comment on the most recent photo about what you're looking to learn about your ethnicity. Deadline to enter is Monday, August 4. Good luck!
Disclaimer: I received this product for review but all opinions herein (as always!) are my own.