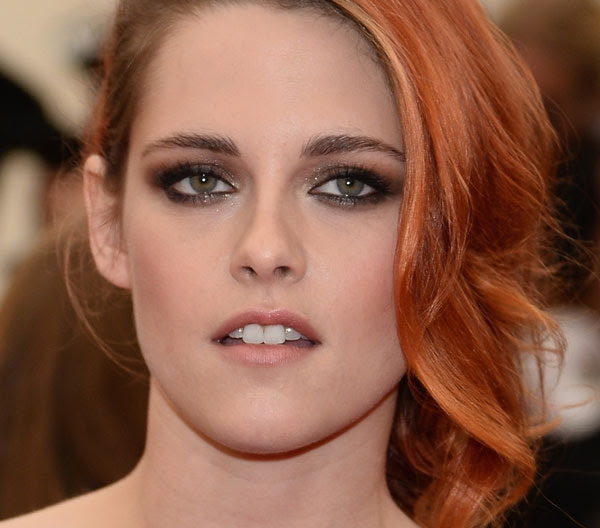 I'm loving that red hair on her more than I thought I would, PLUS, Kristen Stewart's makeup and nail game for the MET Ball 2014 was killer. Celebrity makeup artist Jillian Dempsey did the makeup honors, creating a dramatically chic look, while celebrity manicurist Gina Viviano tended to the starlet's tips. Here, the beauty breakdown.
MAKEUP
"I wanted to create a strong, sexy and sophisticated eye that would play off the sparkle of Kristen's dress. I like to mix and blend shadows when I'm working to get the 'real' feeling of colors merged together on the skin. So I didn't go very dramatic on the lips or brows to keep the intensity on the eyes," said Jillian.
"I prepped the eyes with By Terry Primer and let it set. Then I started in with CHANEL Stylo Yeux Waterproof Long-Lasting Eyeliner in Noir Intense on the upper and lower lash lines. I like to wedge the tip between the individual lashes to fill in any spaces so there are no visible gaps in the lashes. Next, I applied the middle tone from the CHANEL Quadra Eyeshadow in Mystère all over the lid as my base shade, and used the darker shade in the creases, extending it out toward the corners for an intense, dramatic effect. On the inner corners, I layered the lightest shade from the Quad and topped it with a bit of the CHANEL Illusion D'Ombre Long Wear Luminous Eyeshadow in Vision. I love how the sparkle in this color is revealed with the flash of the camera. So I put it where I wanted to grab the light and highlight her eyes. I finished by taking a small nylon makeup brush and feathering out the black liner to create a smudgier look. I actually don't mind it if makeup moves around a little. It looks cool when it's worn in. Lastly, I curled her lashes twice with the CHANEL Limited Edition Precision Eyelash Curler and gave her two coats of Le Volume de Chanel Mascara in Noir."
Additional Products Used:
• CHANEL Hydra Beauty Crème
• CHANEL Vitalumière Aqua Ultra-Light Skin Perfecting Sunscreen Makeup Broad Spectrum SPF 15 in 20 Beige
• CHANEL Correcteur Perfection Long Lasting Concealer in 10 Beige Clair
• CHANEL Powder Blush in Rose Initial
• CHANEL Precision Lip Definer in Pretty Pink
NAILS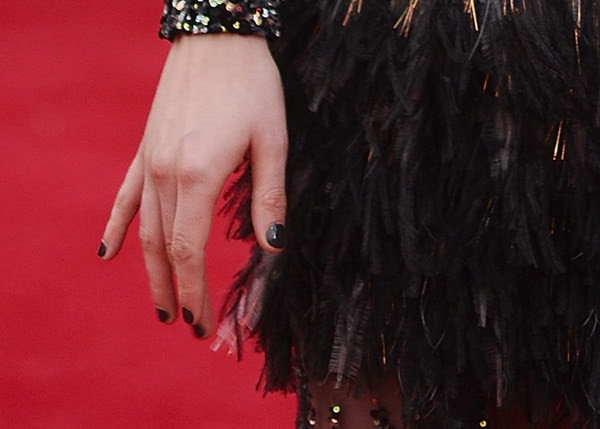 "Kristen's nail look is cool and edgy but with a pretty side," said Gina. "Kristen showed me a picture of her dress, and said she wanted a softer version of black—more like charcoal. When I showed her CHANEL Le Vernis Nail Colour in Vertigo, which is a soft, well-rounded version of a classic black, she said 'Yes!' Kristen likes to keep her nails short, and I think a dark color on a short nail looks cool."
"I paid extra attention to her cuticles by applying a cuticle softener, soaking her hands in warm water and then pushing the skin back with gentle pressure. Doing this lets you get in very close with the nail polish, so there's no visible space between the color and the cuticles. It's a very precise look. Next, I applied the CHANEL Protective Base Coat, followed by two coats of CHANEL Le Vernis Nail Colour in Vertigo. I placed the brush in the middle of the nail and pushed it slightly down to round out the bristles, and get that perfect curved edge around the cuticles. I finished with CHANEL Extreme Shine Nail Lacquer, which sets the polish fast but doesn't leave any demarcation, just a smooth shine."
What do you think of Kristen Stewart's MET Gala moment?