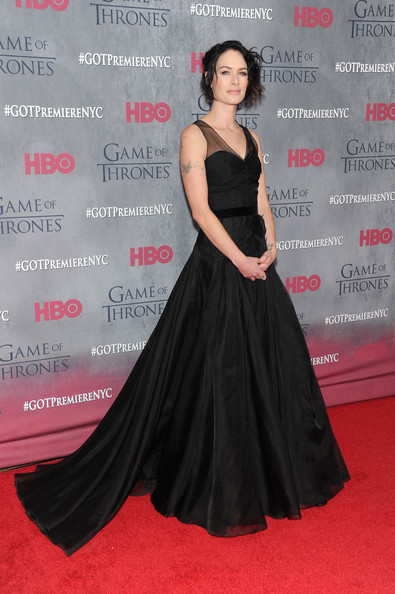 Mark Townsend tended to the tresses of Lena Headey for the Game of Thrones premiere. Says Mark, "It was all about relaxed glamour for Lena Headey. I loved her Jenny Packham dress and felt it was very pretty yet edgy so I wanted her hair to have the same feeling."  Here's how Mark got the look.
"I started by applying a large dollop of Dove Oxygen Moisture Leave In Foam to her damp hair and scrunched it dry with my hands and the diffuser on the blowdryer.  I love keeping as much of Lena's natural wave in the hair and this foam doesn't weigh the hair down or get crunchy and it gives the hair tons of volume.
Next, I gave her a deep side part and sprayed Sally Hershberger salon Texture Blast Spray all over to give the hair great texture and light hold and then braided one side of the hair and laid the braid on top of the hair at the back and then tucked the end if the braid under the hair. I think the braid sitting on top of that heavily textured bob that makes this look so modern and fresh.
I finished by taking a few drops of the Dove Dry Oil Nourishing Treatment through her hair for lots of shine."
What do you think of Lena Headey's hairstyle here? Are you psyched for the return of GoT?