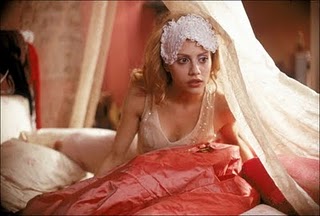 Oversleeping usually means I either go barefaced or I end up stabbing myself in the eye trying to apply mascara in a cab. Neither is a cute look. So rather then change my snooze-button habits, I decided to change my lashes.
An hour at the Lash Loft in Gramercy, with the lovely Krystal and I'm an extension addict. First we went over what I wanted: a natural, not too curly look. She decided to use a combo of 11,12 and 13mm, B curl, silk lashes. They range from 8mm to 15mm but she told me Kim Kardashian wears a 20! Curl comes in J, B,C, D with J being the most natural and D being doll-eyed super curled lashes. Then I closed my eyes for an hour as she carefully applied the extensions.
They last about 3-6 weeks, with the possibility of coming in for touch ups or waiting until they are gone (don't pick them because then you will be taking out your real lashes, too) before getting a whole new set.
Besides the obvious luxury of waking up beautiful, I'm also free of all mascara messiness: raccoon eyes, smudging and the painful task of removing it each night.
34 East 20th Street
New York, NY 10003
Follow Julia on Twitter: @Julia_Casella.