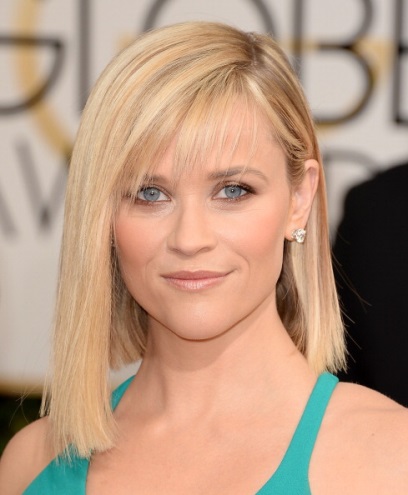 Makeup artist Mai Quynh created a warm, pretty makeup look for Reese Witherspoon. Mai was inspired by the viridian color of Witherspoon's Calvin Klein dress, as well as her golden complexion. Here, the beauty breakdown in Mai's words.
FACE: Golden, flawless skin
Quynh first prepped the skin with La Praire Skin Caviar Luxe Cream and applied Fresh Sugar Lip Treat to her lips. Then she used a foundation brush to apply Laura Mercier Foundation Primer, ($32) all over Witherspoon's face.
She then applied NEW Laura Mercier Smooth Finish Flawless Fluide Foundation (COMING FALL 2014) using a BeautyBlender Sponge. She stated, "I love how the natural, matte texture of this foundation melts into the skin, leaving it smooth and flawless."
Next, Quynh applied Laura Mercier Secret Concealer, ($23) under Witherspoon's eyes and Laura Mercier Secret Camouflage, ($32) around her nose.
She then applied Laura Mercier Crème Cheek Colour in Praline, ($24) onto the apples of Witherspoon's cheeks and layered Laura Mercier Second Skin Cheek Colour in Peach Whisper, ($25) on top. She stated, "Layering creams and powders will ensure that your makeup will stay on longer."
Last, Quynh applied Laura Mercier Pressed Setting Powder in Translucent, ($34) using the Laura Mercier Finishing Brush, ($42). She then dusted the actress's forehead, cheeks and chin with Too Faced Milk Chocolate Soleil Powder Bronzer using the Laura Mercier Bronzer Brush, ($45).
LIPS: Neutral lips
Quynh first used Laura Mercier Rouge Nouveau Weightless Lip Colour in Play, ($24) and swept Laura Mercier Lip Glacé in Bellini, ($24) on top.
EYES: Bright, sultry eyes were the main focus of the look
First, Quynh mixed Laura Mercier Caviar Stick Eye Colours in Sand Glow and Cocoa, ($26/each) and applied the color from the inside of her eyelid, blending it towards the outer lid.
Next, she applied Laura Mercier Illuminating Eye Colour in Fire Glow, ($24) from the lash line to the crease using the Laura Mercier All Over Eye Colour Brush, ($30). She then blended the shadow using the Laura Mercier Eye Crease Brush, ($29).
For added depth and dimension, Quynh added Laura Mercier Illuminating Eye Colour in Earth Glow, ($24) to the outer crease. She smudged both Illuminating Eye Colours to the lower lash line, using the Laura Mercier Smudge Brush, ($24)
Finally, she rimmed Witherspoon's eyes with Laura Mercier Kohl Eye Pencil in Brown Copper, ($22) and finished the look with two coats of Laura Mercier Long Lash Mascara in Black, ($24).  
What do you think of Reese's beauty look?