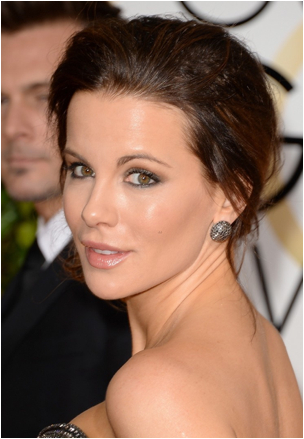 Kate Beckinsale's disco-ball sparkly gown is one of my favorites of the night and her sultry makeup concept was killer, too. Adam Breuchaud for Jouer Cosmetics did the cosmetics honors.  Here, the scoop, straight from Adam.
"When I first saw the silver and gunmetal metallic dress I immediately thought it needed a sexy, rock n' roll make up.  We decided on a smudged kohl eye, almost the day after look. I started by smudging Jouer Creme Eyeshadow in Suede all over the eye. I blended Jouer Powder Eyeshadow in Opal in the inner corner for a highlight, then layered Jouer Powder Eyeshadow in Chocolat over her lid.  Next, I applied Jouer Eye Definer in Noir along the top and bottom lash line.  Over that I blended Jouer Powder Eyeshadow in Licorice to really smoke out the look.
After cleaning under her eye I applied the Jouer Age-Repairing Concealer in No.3 Cameo where needed.  Then I applied the Jouer Luminizing Moisture Tint in Bronzed as a foundation.  It is sheer enough to let the skin show through where you want  and build more coverage where you need.
On Kate's cheeks, I applied Jouer's cream Tint in Whisper and Mineral Powder Bronzer in Sunshine – my favorite go to duo.  Together they define and brighten the cheek effortlessly.
To finish off the look I used Jouer Lip Gloss in Cherish."
What do you think of Kate Beckinsale's makeup and dress at the Golden Globes?