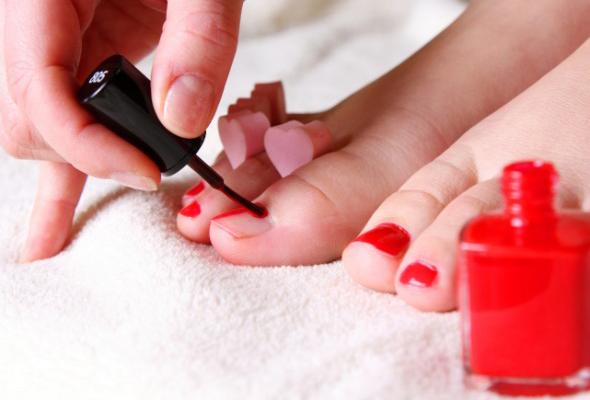 'Tis the season to give your gals useful and pampering beauty treats. These five gifts are perfect for the beauty enthusiasts in your life, whether it's your co-worker, mother-in-law, best friend or sister. The key to these gifts is giving your best beauty tip along with them, which adds a personal and thoughtful element. Here are five beauty gifts with tips included for a little inspiration. Happy gift giving!
1. Pedicure Set
Everyone can use a fresh set of pedicure essentials. Pick one up for her, along with some of her favorite nail polish shades. Or, you can create your own pedi set by snapping up a pair of clippers, a foot file, nail file, some toe separators, foot cream and a polish in her favorite hue. Put it all in a makeup bag, wrap it up in cellophane and tie it up with a bow — you're good to go.
Tip: Line nails with petroleum jelly in order to clean up any nail polish that accidentally gets on skin — this works especially well with red polish.
2. Olay Gift Set
Perfect skin is definitely the gift that keeps on giving. The Olay Luscious Embrace Holiday Gift Set includes a bevy of beautifully packaged items specially formulated to make skin smooth and silky — a must in the dry season.
Tip: For extra smooth feet, take a shower before bed. Exfoliate feet in the shower and immediately upon toweling off, slather feet with a body lotion before putting thick winter socks on. Doing this three times each week will keep feet extra soft.
3. Golden Hair Accessories
It's the most wonderful time of the year for gilded headbands, barrettes and ponytail holders! A trio of hair accessories is always a great addition to any outfit, but these are especially useful during the holidays when she wants to kick her hairstyle game up a notch. With a few new items in her arsenal, she can whip up a chic chignon at a moment's notice. These are available in a range of prices and look good on everyone.
Tip: Dry shampoo can actually double as a volumizing agent. Try using dry shampoo instead of hair spray and tease hair before adding hair accessories.
4. Her Favorite Scent
If you happen to know her signature scent, a fresh bottle of it is always well received. It shows you know her and are thoughtful enough to give her something she'll actually use.
Do some searching online before buying her favorite fragrance — you may be able to find it at a discount.
Tip: Using fragrance on moisturized skin makes it last even longer.
Read the rest over at P&G Everyday: bit.ly/1fjzIPE.