This post is sponsored, but all opinions herein are my own.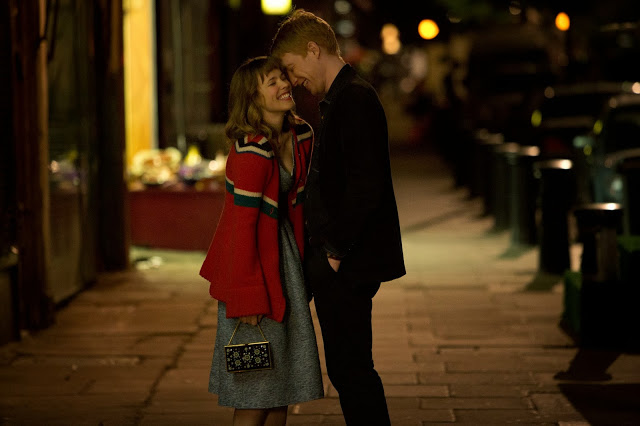 I'm not sure if there IS a movie that's more my speed than About Time, which incorporates British humor (it's from filmmaker Richard Curtis of Love Actually, Notting Hill and Four Weddings and a Funeral fame) and chick flick undertones. Years of demonic dating in Manhattan may have left me dead inside, but my soul needs to see happy, functional relationships existing at least on the silver screen. Plus, it features the beautiful Rachel McAdams, who has starred in SEVERAL of my favorite movies. Here's a summary of the film's plot.
At the age of 21, Tim Lake (Domhnall Gleeson) discovers he can travel in time…The night after another unsatisfactory New Year party, Tim's father (Bill Nighy) tells his son that the men in his family have always had the ability to travel through time. Tim can't change history, but he can change what happens and has happened in his own life—so he decides to make his world a better place… by getting a girlfriend. Sadly, that turns out not to be as easy as you might think. 
Moving from the Cornwall coast to London to train as a lawyer, Tim finally meets the beautiful but insecure Mary (Rachel McAdams). They fall in love, then an unfortunate time-travel incident means he's never met her at all. So they meet for the first time again—and again—but finally, after a lot of cunning time traveling, he wins her heart.  
Tim then uses his power to create the perfect romantic proposal, to save his wedding from the worst best-man speeches and to save his best friend from professional disaster. But as his unusual life progresses, Tim finds out that his unique gift can't save him from the sorrows and ups and downs that affect all families, everywhere. There are great limits to what time travel can achieve, and it can be dangerous, too.
Mary (played by Rachel McAdams) is a relatable character; she boasts a love of Kate Moss, an eclectic taste in fashion, she places a premium on catching up on sleep over the weekend in lieu of cultural activities and loves being home alone/with Tim (I can certainly feel all of this). Mary's American and I can tell she's an indie beauty brand kind of gal. She'd never wear a mass perfume. While her friend Joanna is likely easily seduced by whatever she reads Cara Delevingne is wearing, i.e., Burberry Body, she prefers an unrecognizable fragrance and she's definitely one of those people who does not share her perfume of choice in the interest of having her own juice that's "special snowflake" unique. Joya No. 1 ($28 at Birchbox.com) is a very Mary scent. It's a stunning yet subtle citrus blend that's sparkling, thanks to a blossomy floral center but tempered by a sexy base of sandalwood. It's an easy, light, pretty perfume that's portable and long lasting.
My favorite Mary scene is when Tim approaches her at the Kate Moss/Mario Testino exhibit and she is polite but hilariously refers to him to his face multiple times as a complete stranger. She soon softens, however, and she and Joanna enjoy a cup of tea and get to know Tim in one of the many timeline realities of the flick. I love that the randomness of that moment in the movie, an instant camaraderie with people whom you just happen to be sharing a space become people with whom you share an experience. As someone who frequently makes longtime friends in line at Bed Bath and Beyond, at Core Fusion classes and at airports, I just loved how real and hilarious the dialogue was.