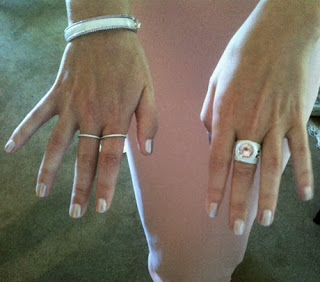 After seasons upon seasons of nail art, it's nice to see a return to the subtle and Rose Byrne's pretty metallic manicure at the Emmys certainly falls into that category. Chanel Celebrity Manicurist Ashlie Johnson tended to her tips. Here's how she got the look.
"We chose CHANEL Le Vernis Nail Colour in Rose Moire (available October 2013). Not only did I get a kick out of "a rose for Rose," it was the perfect color to bring an updated look to the nails. We loved this soft rose shade and metallic finish, and it was a chic complementary finish to her jewelry." 
What do you think of Rose Byrne's Emmys manicure?
When using a metallic polish like this one, don't shake or roll the bottle before application. Doing so can create air bubbles, which show up more in metallic polish than other finishes
Like this post? Don't miss another one! Subscribe via my RSS feed.