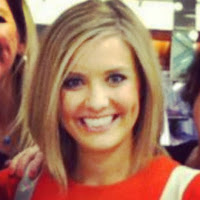 One of the best ways to get to know the absolute tried and tested best offerings of a brand is to ask an employee. To that end, I caught up with #iheartphilosophy Twitter contest winner Ally Schmidt, Philosophy Regional Education Executive–Northern California/Northwest.

Tell me a little about your background!
Well, my first "brush" with beauty was working at a cosmetics counter while attending the University of Northern Colorado. When the store first placed me there, I was a little scared – I didn't wear makeup at all, for one!  But after attending product trainings and bonding with other women who worked there, I fell in love with the job and knew I wanted to make a career out of beauty.  Upon receiving my degree in Marketing, I entered the sales industry, covering various parts of the country for various beauty brands.
I started at philosophy in 2010. It's an amazing company that cares about the whole person and develops great products with the intention of inspiring people.
What's most exciting about your job at philosophy?
I get most excited when new products launch and we get to learn about the technology behind them. I never thought science would interest me so much until I began to learn about skincare. Now, I am a bit of an ingredient junkie. I love learning about a product's formula and how the ingredients function individually and together to make such great results happen. I personally find it exciting and it's also an integral part of my job.
What's most challenging about it?
Helping women to understand the right skincare for them. It's great that we have options but because there is so much information out there, women are often confused on what to use.  I help women navigate through their choices to select the skincare that is right for them. It's challenging at times, but also very rewarding when the results happen!

What is your favorite philosophy product?
My all-time favorite is
the oxygen peel
. I use it every Monday morning to help keep my skin bright, glowing and clear. I can't imagine it not being a part of my routine.
I have to admit though it is hard not to have a new favorite all the time. For example, I am so in love with our new
Time in a Bottle Serum
and
Hope in a Jar A-Z
BB Cream. Time in a Bottle helps tackle age prevention before it even appears. And I love Hope in a Jar A-Z because it gives me the perfect amount of coverage. It's my skin, but better.
Any skin-care tips you've picked up on the job you can share?
Don't be afraid to invest in your skin. Early in my career I was assisting a mature woman and she looked absolutely amazing and I was truly blown away when she told me her age. She said to me "we spend so much money on a pair of amazing jeans that we wear for maybe 5 years. You wear your skin for the rest of your life, so why wouldn't you take care of it accordingly?" I think most women would agree.
Thanks, Ally! Have you tried any of these products from Philosophy? What are your thoughts?


Like this post? Don't miss another one! Subscribe via my RSS feed.