This post is sponsored by Avon, but all opinions herein are my own.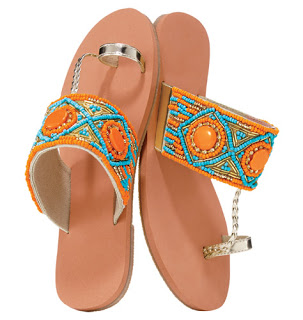 Guys. Are we watching Netflix original Orange Is The New Black? It's everything. I binge-watched this weekend when I was desperately due for a people cleanse.
I watched all 13 episodes in a row from 11am to 1am. I'm not proud of this behavior. The show is two parts Shawshank Redemption, one part Just The Ten Of Us, one part The L Word and one part Friends.  There was a moment when I wanted to reach into my screen and help out my gal Piper in her "orange" phase before she's able to shop the commissary.  Girl's walking around with maxi pads fashioned into flip flops, but it's worth applauding just how many things she's able to MacGuyver those feminine hygiene items into. These Avon beaded sandals would have been perfect–almost as cool as those fellow inmate Sophia Burset fashioned out of duct tape when she couldn't get flip flops in her size. 

And the fact that they're called "escape" sandals is just icing on the cake. These Moroccan-influenced flats jazz up any summer whites you're rocking from a gauzy gossamer dress to white jeans and a T. You'll absolutely live in them and they're supremely comfortable. 

The Avon Beaded Escape Toe Loop Sandal retails for $25 at avon.com. 

What's your shoe strategy for the rest of the season? Go.

Like this post? Don't miss another one! Subscribe via my RSS feed.