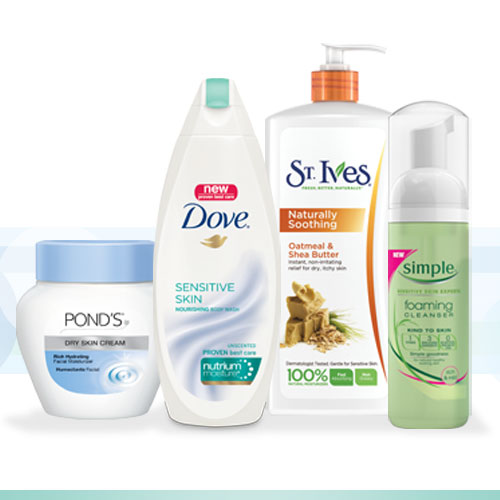 Thanks to all who participated in my
Unilever beauty brands #mysensitiveskin Twitter party
today! Here, a roundup of some of the best questions and answers throughout the hour.

@n210ss: What is the difference with SPF? Can it be higher? 
 The main thing is reapplication. You can use a lower SPF if you're diligent about reapplying every couple of hours.
@nicbran74 I have a few patches of skin that never seem to heal. 
It could just be dry skin, but if you're in doubt, see a dermatologist.
@confrugal14m What should i do about flaky skin? 
for flakes, up your exfoliation! At least 2-3 times a week. Try St. Ives Apricot Scrub!
@momochompers is it possible to become sensitive to products that are for sensitive skin? 
Unfortunately, anything is possible when it comes to skin's sensitivity. If you find sensitive products are irritating, make an appointment with your dermatologist to assess the issue.
@DMThoma I have a question How often should I be washing my face is twice a day too much if my skin gets a little dried out? 
I'd try washing it only at night if dryness is a problem. You can use just water in the morning or a Simple wipe!
@stephanienola20m  Any suggestions to remove eye makeup?
My favorite way to remove makeup is to use Simple Eye Makeup Removing Wipes, which I wrote about today: http://ht.ly/l1EMX
@TammySigond33m What's your pic products 4 10 yr old whose exp. monthly breakouts and has excema (but not on her face). 
Simple skin care is great for acne-prone skin, especially the blemish-targeting offerings and oil-free wipes. It won't irritate nor cause breakouts.
Also, during May, when you buy 2 Unilever sensitive skin products at Walgreens, you'll receive 2,000 Balance Rewards points! Not a Balance Rewards member? Sign up for free here: 
bit.ly/WalgreensBalance. 
Do you have sensitive skin like mine? What do you recommend to keep it looking fabulous?
Like this post? Don't miss another one! Subscribe via my RSS feed.