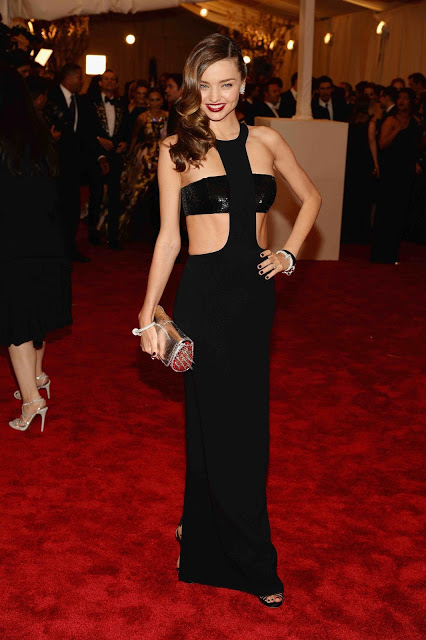 Miranda
Kerr
 really does occupy that rare Venn diagram intersection between pretty and cute, doesn't she? 
The model wore a Michael Kors dress and attended the Met Ball 2013 with his partner.  Her hairstyle is courtesy of David Keough. Says Keough, "The whole theme is modern punk. Miranda loves signature style of glamourous, so we stayed along those lines, but infused some rocker by adding two braids on the side, which wrapped around and tucked underneath the nape of the neck." Here's how to recreate this hairstyle. 
While hair is wet, create a deep side part. Use Davines For Wizards No. 8 Quick Setting Hard Gel ($22/

barneys.com

) throughout the hair to create a solid hold.
On the side opposite the direction of the part, create 2 sections and french braid each section parallel to one another, wrapping them down around the head.  Tapering down to the nape, tie them off and tuck them under the rest of the hair.  
Apply quite a bit of the gel mixed with the Davines For Wizards No 3 Universal Mattering Mousse ($26/

barneys.com

) throughout the rest of the hair as it creates longevity for keeping the looks. (Mixing the products is a trick Keough likes to use.)  Layer with Davines OI/OIL for ultimate shine ($39.50/

davines.com

)
With the remaining unbraided hair, blow dry with a round brush.
Using a 1 inch curling iron, separate and curl large sections.  Pin them up and let hair cool down, while makeup gets done.
Pull the hair out and spray roots with a bit of Davines For Wizards No. 14 Sea Salt Primer ($26/

davines.com

), for a bit of lift and blow dry a touch.
Finish off with Davines Defining Invisible Hair Spray ($26/

davines.com

) to lock the look in.
What do you think of Miranda Kerr's look at the Met Ball 2013? 
Like this post? Don't miss another one! Subscribe via my RSS feed.