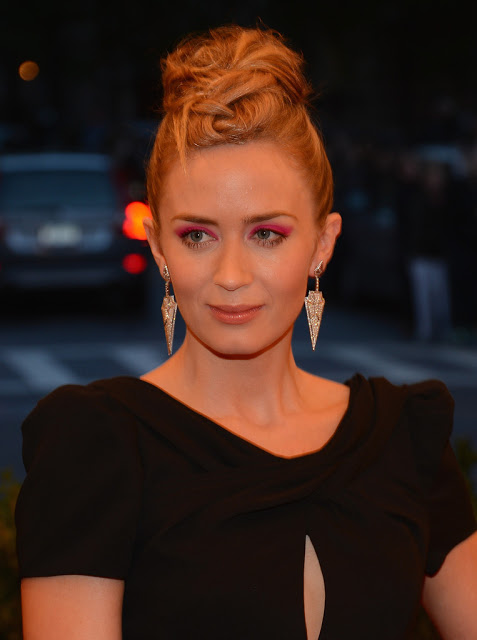 Here's a gal who brought the punk! Leave it to a Brit:
Emily Blunt
's
Met Ball 2013
neon pink eye and faux-hawk were killer. Celebrity hairstylist
Laini Reeves
said, "I wanted to pay homage to the theme of the evening, while still managing to keep her look not too over the top." Here's how to recreate her hairstyle. 
Reeves decided to create a soft Mohawk for Emily using KMS® California Hair Care to complement her stunning black Carolina Herrera gown. 
First, she began by applying KMS® California TAMEFRIZZ® taming creme ($15.50) to wet hair. She then blew the hair dry and pulled it into a ponytail that started on the top of her head.
Then, Reeves sprayed the hair with KMS® California HAIRPLAY® makeover spray ($17.99) to keep it smooth. Next, she braided the ponytail, secured the end and roughed it up a bit to give it a smoother, less structured look.
Reeves then took the braid and pulled it forward, securing it on the front hairline, giving it the appearance of a braided Mohawk. She finished the look by spraying KMS® California HAIRSTAY® maximum hold spray ($16.99).
What do you think of Emily Blunt's Met Ball hairstyle and makeup? 
Like this post? Don't miss another one! Subscribe via my RSS feed.