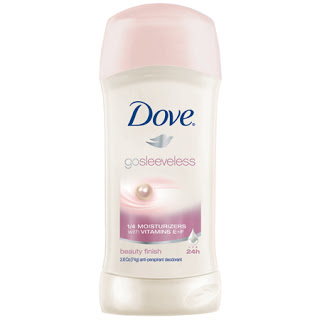 Recently, I was in Vegas, land of never sleeping, always moving, being supremely schvitzy due to its desert climate AND the fact that I'm generally rocking sequins and doing things I never do in New York like clubbing until 2am. You know, the ush. 
I was there on a three-day packed press trip starting daily at 7am and going non-stop until midnight or later (more on the trip's events later), so I needed to bring reinforcements in the form of a SOLID deo.
Naturally, I packed Dove go sleeveless Deodorant in anticipation of lots of strappy moments and wanted to feel my best.
The formula is the only one on the market with Vitamins E & F plus Dove ¼ moisturizers to care for delicate underarm skin, which can get not-so-sexy with daily shaving. Dove is actually clinically proven to soothe shaving irritation. I also knew I'd need wetness protection thanks to the busy schedule and 80-degree days and adore the brand's Beauty Finish scent (but they have a variety of light fragrances to choose from!), featuring notes of watery florals, sandalwood and amber musk. I'm a sucker for personalized anything, even it's by accident, even when it comes to deo scent. 
So when I spent my weekend rushing from activities like yoga with dolphins to a Thai massage and then heading directly to a meeting with hotel executives, I didn't sweat it–literally and figuratively 
because 
Dove go sleeveless provides 48 hours of odor and wetness protection
. And after 
just 5 days of 
using Dove 
g
o
s
leeveless 
Deodorant
 regularly, my skin is 
softer, 
smoother and less razor-burned; perfect prep for summer sundress situations. 
That's why, in the paraphrased words of famous philosopher Robert Palmer, I'm addicted to Dove.
Visit
Dove.com
 for more info on Dove 
g
o 
s
leeveless 
Deodorant
.

Disclaimer: This post is sponsored by Dove, but all opinions herein are my own. 

Like this post? Don't miss another one! Subscribe via my RSS feed.