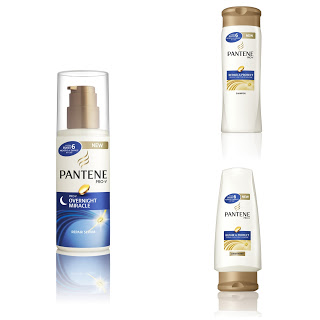 Nothing is more spectacular than posing as a tourist at a fancy hotel like the
Dream Hotel Downtown,
just mere blocks from one's own residence in NYC. But
Pantene
, generous purveyors of all things gorgeous hair wanted to help this gal get her beauty sleep on and try out their new Repair line
and
they let me invite my friend
Tamar
for the experience. We dined at the hotel's fabulous restaurant, Marble Lane, and then retired to the slumber party upstairs but not before indulging in spa treatments. As Tamar said, the room looked like Studio 54 (it did, silver walls and decadent details were all over the pimped-out space) and we each got our own Pantene goodies, flowers and sleep masks to take home. 
There, I tried out the new shampoo and conditioner which are great for repairing damaged ends from too much heat (ahem, that'd be moi) and doused my ends with the new
Pantene Pro-V Overnight Miracle Repair Serum
. I awoke to freshly scented, smoother, more hydrated hair and a rekindling of my affection for Jane Child's '80s ditty, "Don't Want To Fall In Love," thanks to Tamar's reminding me it exists. Love is just like a knife!  
Also, today, join @Pantene from 2-3PM EST to chat with Pantene Celebrity Stylist and Global Ambassador, Danilo, along with Pantene sleep expert, Dr. Lisa Shives. In the meantime, check out my Q&A with the latter on everything you need to know to deal with insomnia and get better quality sleep. 

BBJ: What's the easiest way to fall asleep? 
DLS: You need to be truly sleepy; it is no use to get into bed and try to force yourself to sleep. The room should be cool, dark and quiet. You should avoid "screens" for at least one hour before bed. You should have your cell phone charging in another room. If you feel you must have the cell in the room for emergency calls, be sure that you are not alerted every time there is a new text or email.
BBJ: What's the best position for falling asleep for those afflicted with insomnia? 
DLS: There is no sleeping position recommended for insomnia. In general, it is better to not sleep with too many pillows. If your doctor has recommended that you should elevate your head in order to improve breathing or reflux, then it is better to use a wedge pillow made for this purpose.
BBJ: What should we avoid eating or drinking before sleeping?
DLS: Most people should avoid eating and drinking altogether for 2 hours before bed and for those with reflux, it is better to avoid it for 3 hours.  If you need a little snack in the evening, try something like nuts, cheese or a glass of milk—all foods with a lot of protein and healthy fat, which means a low glycemic load, is perfect for the fasting state of sleep.
BBJ: Do those pillow sprays work at all? 
DLS: There is some research that aromatherapy can help induce drowsiness.  Lavender is often the scent touted to help sleep.
BBJ: How can we make sure we stay asleep if we're a waker upper? 
Often, these people need a sleep specialist to help sort out why they are waking up. The big culprits are sleep apnea and periodic limb movement disorder.
Should we be laying off the lights/technology a certain number of hours before retiring? Is there truth to the tip to keep technology in a separate room?  
DLS: YES and YES!  As I said above, I recommend no screen time in the bedroom and to refrain from use for 1 hour before bed.  The smart phone that never leaves one's side even during sleep is becoming a real drain on the quality and quantity  of people's sleep.
Thanks, Pantene! See you tomorrow at the Twitter party! 
Disclosure: Product, hotel room, dinner and spa service provided by Pantene, but all opinions hererin are my own. 
Like this post? Don't miss another one! Subscribe via my RSS feed.