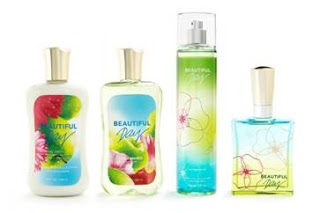 In celebration of the end of the world's longest winter (or at least what felt like it if that's not reflected in the Farmer's Almanac or wherever one might go to fact-check boring stats like that), I'm spritzing, bathing in, scrubbing with and hydrating with Bath & Body Works' Beautiful Day Collection.

For me, a beautiful day begins with my beauty routine. I love nothing more than to indulge in a fragrant  body wash after an especially grueling workout (Core Fusion is my jam again, of late) to jump-start my senses. It's mostly fruity, with a crisp essence attributed to its green apple top note. There are florals in the mix, but they're the Pussycats to the fruit notes' Josie and a drydown of creamy musk and blonde woods round out the scent. Even if spring isn't quite here yet, I can spray on some of the franchise's Shimmer Mist and not know the difference. Until I step outside. Try the new Bath & Body Works Beautiful Day Collection at prices ranging from $6-$30. 

Lather, slather and spritz it on, all the while singing it like Bono does, ever so eloquently in U2's famous ditty of the same name.


Disclosure: This post was sponsored by Bath & Body Works, but all opinions herein are my own. 
Like this post? Don't miss another one! Subscribe via my RSS feed.