Welcome to  BBJ series, Fictitious Fragrance Fans. Fragrance is one of the most difficult areas of beauty to discuss and I find myself trying to convey a scent to you, more often than not, by the pop culture character it embodies to me. So why not make it a thing? 

In honor of 30 Rock's finale last week, this week's Fictitious Fragrance Fan is Liz Lemon. It feels cliche that she would rock a citrus scent but think about–can you imagine her smelling like anything else? The note is bright and zippy (much like Liz herself) and, it'll make you want to go to there. There being the sillage of her lemony fragrance. Here's how to achieve a perfume concept that no one will be tempted to shut down.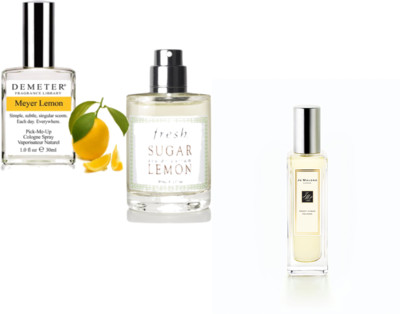 Demeter Fragrance Library Meyer Lemon ($20) Demeter's fragrances are uncannily spot-on and this tribute to the sweetest lemon of them all is an olfactory stunt-double for the fruit that's believed to be a hybrid of the orange and the lemon. 



Jo Malone Sweet Lemon Cologne ($60) From Jo Malone's tea collection a while back, the brand didn't even skimp on the accoutrements, as you can see. A zesty infusion of lemon boasts a blend of pineapple, peach and fresh green cypress for a light effect. 

Fresh Sugar Lemon ($24) One of my longtime fragrance staples, this one tempers the tart fruit with a shot of sugar. More brisk/fresh than the lemon shots you indulged in your sophomore year, but there's a soupcon of that scent involved in the mix. 

Like Liz once said, you'll get a "Little taste of the Lemon. And it is not sour, my friend. Not sour."  

What do you think? Citrus scents for Liz Lemon or not so much?

Like this post? Don't miss another one! Subscribe via my RSS feed.