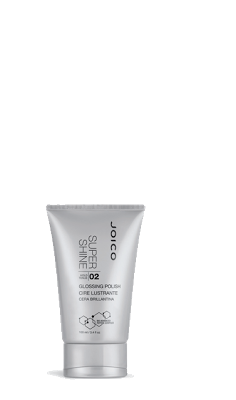 Joico's Super Shine Glossing Polish 
is perfect for slicking back your
Simply Irresistible
-style updo on days when you can't be bothered to blow-dry your maine. It's a clean-feeling gloss wax styler meant to be applied to dry hair. It combines lightweight resins with the shine of pure micro-crystalline liquid to polish and smooth your hair, yielding massive shine.
How can shine like that even be permissible
? Here's how
Damien Carney
, Joico International Artistic Director, advises you employ it.
"This product works on all hair types and hair lengths – especially, dull, dry lifeless hair. I love the light defined texture and the shine it creates, a clean, non-greasy, shiny feel to dull dry hair. Great on colored hair, the light reflecting qualities add clarity to all hair colors. Great on messy hair, fab on wavy hair, and super cool on super slick straight hair." In other words, to paraphrase the sage Robert Palmer, my hair used to look good to me, but now I find it… simply irresistible. 
Have you tried Joico Super Shine? What are your thoughts on shine products?
Like this post? Don't miss another one!
Subscribe
via my RSS feed.