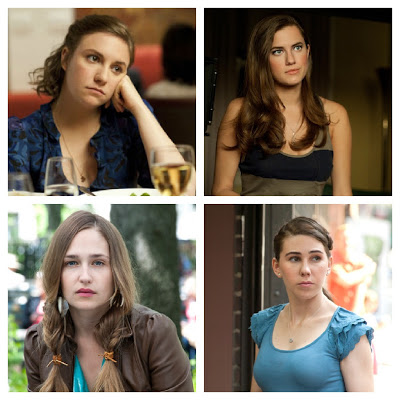 Welcome to a new BBJ feature, Fictitious Fragrance Fans. Fragrance is one of the most difficult areas of beauty to discuss and I find myself trying to convey a scent to you, more often than not, by the pop culture character it embodies to me. So why not make it a thing? 
This week's Fictitious Fragrance Fan installment is all four of the Girls, which, if you're not watching it, I don't understand what you're DOING all the time. I'll admit I was grossed out by the sex scenes, cupcake-eating in the tub and the gratuitous shots of nude and tattooed Lena Dunham all the time at first. But once you get into it, you recognize the genius that is this show. I took one look at Shoshanna in her pink and purple snuggy and realized that she was the target demographic for Britney Spears' Radiance Fragrance (which smells kind of delightful, honestly).
Read on to discover what the I think the rest of the Girls are wearing and why. Special thanks to an impromptu brainstorming sesh with Andrea Lavinthal for her help with coming up with the gals' signature scents.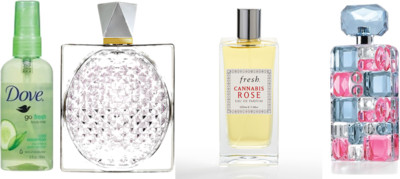 Hers was actually the hardest to pinpoint. Hannah clearly doesn't WEAR perfume. She doesn't put a premium on wearing clothing that fits. But Andrea pointed out during our "dialogue" (to use a corporate word) at a bodega the other day on the way to see Polly Blitzer's twin baby boys that Hannah would have worn this scent which she got in a gift bag at an NYC event she went to and has been wearing it since. This body spray is lovely; the cucumber freshness appeals to her low-maintenance sensibility while the green tea sultriness is something her inner seductress values. Surely Adam (why is he strangely appealing? A question for the ages) is holding onto some unwashed onesie with a soupcon of the stuff. She IS from New York, so she is just naturally more interesting and likely interesting-smelling, thanks to her cuke-scented spray. Dove Go Fresh Body Mist is available at drugstore.com for $5. 
Marnie 

Put-together Marnie would spritz a stunning, sophisticated scent. Sartorially, she hits the mark, but hasn't quite gotten the knack of matching the clothing to the occasion, i.e., showing up to a hipster party in Flatbush in a dress suitable for an art gallery opening. In the last episode of the show, she confessed to a potential employer (played by Lena Dunham's mother, BT dubs) that she purchased her suit at Ann Taylor, which resonated with me. I don't know a girl who didn't buy her first suit there. You see that store in the mall when you're in high school and you simply assume that THAT is where you will buy all of your fancy duds when you're a career woman. And truth be told, Ann Taylor does make some phenomenal suits. Scent-wise, Marnie's good taste and floral, feminine flair (seriously–girl's so girly she hit it with a gay gentleman) registers with me as a Stella McCartney all the way. The brand's latest scent, Stella McCartney L.I.L.Y ($80 at sephora.com), is ideal for Marnie. It blends black truffles, black pepper, lily of the valley, pink pepper, white moss, oak and patchouli. The latter is a remnant of the influence Jessa's had on her since the start of their new-found friendship. Obviously Marnie bought it the day after a fellow hostess at the fancy restaurant where she's working copped to having scored the scent on a Sephora whim before punching her card. 
Jessa

Jessa is the kind of girl who rocks a geisha-inspired 'do with oxblood lips and a bathrobe inexplicably on a date with her ex-boyfriend who has a girlfriend. She's one part hippie, two parts natural beauty and one part DGAF. I see her spritzing Fresh Cannabis Rose ($80) while perusing the Fresh fragrances at the brand's flagship in Union Square one day while walking her new dogs during her recent switch to being a lady of leisure. The dynamic of cannabis and rose is subtle, light and successfully toes the line of edgy and feminine, much like Jessa herself. For her, I started with a patchouli note and went from there until I realized Cannabis Rose was JESSA. The rose renders an "English garden" vibe as well, an exotic, earthy yet organic shout-out to her London cool girl culture. 

Shoshanna
She may be deflowered, but she is not devalued. After all, who immediately gets on the phone and says breathlessly, hiitsshoshhowareyouI'mamazing? That killed me. Shosh clearly rocks a celebrity scent. She's plugged into pop culture, but only in the most generic way. She's in the standard-issue phase of her life, where she is in grad school (my guess is at Hunter to be a speech pathologist), wears things her fellow Murray Hill residents rock, is still overly concerned with Sex And The City and the colors pink and purple. All this tells me she's squarely in the target demographic of celebrity scents and if ever there were an olfactory equivalent of a Juicy Couture sweatsuit, it's Radiance by Britney Spears. Shosh was inspired to do as Britney does and choose her own destiny when the fragrance came out a few years ago, so she purchased it at the University of Michigan at a mall in Ann Arbor after seeing the commercial. She wears it on her dates with Ray. 

What do you think, guys? Are these on the mark? Tell me your thoughts on Girls, perfume and everything else in the comments. 
Like this post? Don't miss another one! Subscribe via my RSS feed.