Sparkle, Neely, sparkle: This is the 2012 BBJ Holiday Gift Guide. For more gift ideas, click here. 

She covers for you when you walk in with an egg and cheese sandwich and sunglasses in rainy weather 23 minutes late. You IM in-office about your hilarious head of department. She knows all about your romantical endeavors first AND you have your own code through which you discuss them. Here's what to get your coworker.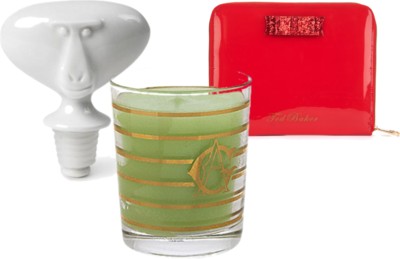 Ted Baker Glitter Bow Tablet Case in red (on sale for $45) 
So beautiful, so useful and adorned with pretty details like a glitzy bow and gold hardware. 



Jonathan Adler Baboon Wine Stopper ($24) As Jonathan Adler says on his website, this is "so cute, it's ridiculous." 




Annick Goutal Petite Cherie Candle ($52) Let her know she's your WORK petite cherie by sharing this divine-smelling candle you'll want to keep for yourself, but won't. Because that isn't in the spirit of giving. 


And tell me: What's the dishiest thing you've discussed with your favorite co-worker?
Like this post? Don't miss another one! Subscribe via my RSS feed.