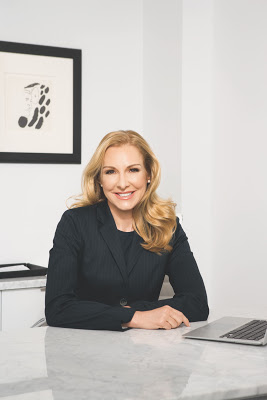 The Skinterrogation column features Q&A seshes with dermatologists and other major movers and shakers in the skin care industry. 
Dr. Cheryl Karcher
is a New York-based dermatologist and professional consultant for
Avon
and a nationally recognized expert in aesthetic medicine. She received my medical and advanced training in dermatology from New York Hospital-Cornell Medical Center and New York University Medical Center. She holds a masters of science in human nutrition from the University of Florida and trained in human metabolism as a fellow at Rockefeller University. I hit her up to talk about hyperpigmentation, exfoliation and some acne tips. Check it out below.

BBJ: How can we best address hyperpigmentation with over the counter products? 
CK: Hyperpigmentation can be best addressed by using products containing glycolic acid.
Hydroquinone is the bleaching ingredient.  Glycolic acid helps in that it helps the hydroquinone penetrate better.
BBJ: Regarding exfoliation, are physical or chemical exfoliants best? 
CK: It is much better to use a mild chemical exfoliation like that from a glycolic peel at night.   Chemical exfoliation is cumulative and continues to work over time. Try the ANEW Clinical Retexturizing Peel, a product I have been recommending for years.  
BBJ: What are some tips for acne-prone skin? 

CK: The best way to treat acne prone skin is using something to keep the pores from getting clogged and something to kill the bacteria on the skin.  Salicylic acid does both of those.
When cleansing acne-prone skin, once a day can be enough when using a cleanser that contains something strong such as benzoyl peroxide, and usually night is the best time, after you have been exposed to all the environmental factors of the day.
You should not use rough scrubs as a part of your regimen as you don't want to upset the skin barrier.  If you destroy the natural barrier of the skin, your skin is more exposed – you can make the situation worse. The best way to exfoliate is using pads that have salicylic or glycolic acid in them. 
If you have tried over the counter acne products for 6 weeks and it has not helped, you should see a dermatologist. 
BBJ: How about for anti-aging? 
CK: The number one this you can do to prevent aging of the skin  is  using a broad  spectrum sunscreen. It sounds so simple, but it really is critically important for the health and look of skin. when targeting aging skin, you should make sure to incorporate some type of retinol, sunscreen and antioxidants into your skincare regimen. 
BBJ: Rosacea?
CK: The best products for rosacea are gentle non-irritating products. Strong acids and rough exfoliants can just make the situation worse. 
The best tip for rosacea prone skin is to stay away from inciting events.  Hot and spicy foods, smoke filled rooms, and alcohol can all make rosacea worse.
BBJ: What are some tips for transitioning our skin care for the fall? 
CK: You could expect your skin to be a little more radiant and look overall healthier-looking for the fall by trying a skincare routine that includes a gentle cleanser, retinol at night alternating with some type of acid (glycolic or salicylic) a few times a week, along with a good moisturizer.  The skin tends to become more dry from fall to winter.
BBJ: What's been most exciting about your career thus far? 
CK: Working as Avon ANEW's consulting dermatology and playing an instrumental part in the development of Avon's innovative ANEW Clinical Pro Line Eraser Treatment has been so truly exciting to me because of what it could mean to the future of anti-aging skincare. It is formulated with A-F33, a newly discovered anti-aging molecule that promises to revolutionize the skincare landscape. 
Working with the title holders of the Miss Universe Organization has also been exciting, as well as my practice on Park Avenue in NYC.

BBJ: What's been most challenging? 
CK: Anyone who misuses the profession of dermatology and doctors who don't say "no" add challenges to this field. Procedures should be used to restore and maintain what is there naturally. When there is a disconnect between what a person thinks they look like and what they actually look like, that is bad. Many women compare themselves to other women and don't stop to embrace their own unique beauty.
BBJ: Tell me about your own skin care regimen. 

CK: I try to be a gentle as I can with my skin. My goal is to protect during the day and restore and repair at night.   I use a gentle cleanser like cetaphil,   I use the Pro Line Eraser with AF33 twice a day.  I do believe that using a product that literally reverses the aging of your skin cells is key..  I use a sunscreen over it in the morning, and alternate with a retinol twice a week at night.
It's important to exfoliate with gentle fruit acids, lactic, salicylic or glycolic acids, so I use Anew Clinical Advanced Retexturizing Peel  with glycolic acid about 4 times a week—I also try to use an antioxidant. SkinCeuticals Rehabilitative Cream for Aging Skin is the one I like.  .For a quick fix, firming serums or masks are good. I use the ANEW Clinical Resurfacing Expert Smoothing Fluid and a mud mask to tighten pores.
Thanks, Dr. Karcher! Stay tuned for the next Skinterrogation.

Like this post? Don't miss another one! Subscribe via my RSS feed.