SJP as Janey Glenn
Truly, my relationship with
Neutrogena
is longer than most others in my lifestyle–longer than any of my friendships except with my BFF Lee. When I saw Sarah Jessica Parker taking a bubble bath when I was in middle school in
Girls Just Want To Have Fun
, guess who purchased the economy sized container of
Rain Bath
at CVS at the Montgomery Mall that weekend?  Guess which other dream consumer (hint: It's the same dream consumer) took the 14-day
Neutrogena Anti-Residue Shampoo challenge
that was all the rage in the early '90s? Who was asking their mother for checks to "send away" for a mini Caboodle filled with teeny tiny
Neutrogena Body Oil, Rain Bath and Oil-Free Acne Washes
the minute they hit middle school? You get the idea.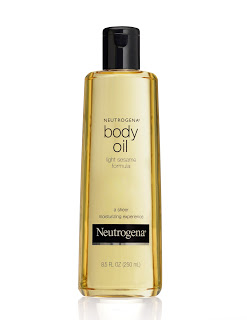 So I'm excited to host a Neutrogena Twitter party on Thursday, September 20 at 1:30pm ET (use hashtag #NTGCLASSICS) all about the brand's cult products. Here's a rundown of the ones I'll be discussing and giving away. My favorite of the batch? The Triple Moisture Mask for hair. It works better than any fancy Sephora-bought celeb-stylist created hydrator I've ever tried.

Neutrogena® Body Oil
· Light sesame formula leaves skin soft and silky and protects against moisture loss.
· Absorbs quickly with no greasy after-feel
· Dermatologist-tested.
Neutrogena Norwegian Formula Hand Cream
· Developed to heal severely dry skin and relieve rough, chapped hands and five years of clinical testing proves its superiority at healing dry skin.
· Retains moisture by boosting skin's natural barrier against the elements that damage it.
· Dermatologist recommended.
Neutrogena Rainbath® Shower & Bath Gel
· Gentle shower gel that cleans & conditions all skin types, without leaving behind a filmy residue
· Clean-fresh fragrance invigorates & refreshes
· Non-Comedogenic
Neutrogena Shampoo Anti-Residue Formula
· Instantly removes OVER 90% of dulling residue left by shampoos, conditioners and styling products.
· Rich lather leaves hair clean, shiny and soft and rinses off thoroughly.
· Clear formula uses no artificial dyes or colorants.
· For all hair types.
Neutrogena Triple Moisture™ Deep Recovery Hair Mask
· Contains naturally-derived ingredients proven to moisturize all three layers of the hair strand
· Proven to moisturize even severely dry hair to feel soft and smooth all day, after a single use
· Gives hair a smooth, radiant, healthy look after a single use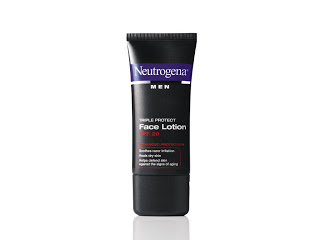 NEUTROGENA MEN® Triple Protect Face Lotion SPF 20
· Soothe razor irritation – Anti-irritants, derived from licorice and chamomile help to calm skin and reduce razor burn
· Heal dry skin – Olive extract, glycerin, Pro Vitamin B5 and allantoin works to moisturize and heal dry skin
· Defend – Anti-oxidants, such as Green Tea Extract and Vitamin E help to protect skin from free radicals and environmental damage Contains Active Soy to help fight the signs of fine lines and wrinkles
· SPF 20 helps to defend against the damaging effects of the sun
See you at 1:30 on Thursday! In the meantime, if you're not following me already, are we in a fight? I'm @Glambr. See you then!
And tell me: Which Neutrogena item of yore (or a new one!) blows your hair back? I know, in the words of Girls Just Want To Have Fun's Natalie Sands–"Decisions are the worst!"
Like this post? Don't miss another one!
Subscribe
via my RSS feed.