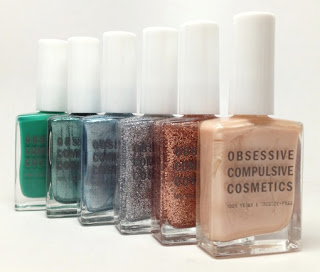 Lovers of the heavily pigmented Obsessive Compulsive Cosmetics' Lip Tars will love this news: The brand is launching a nail polish collection! As any gal who's attempted many a streaky, weak polish can atttest, OCC's commitment to pigment will no doubt be welcome in the nail world. Read on…

According to the brand, they're densely pigmented, quick-drying and super long lasting. They're available in Satin, Matte and Metallic texture and both Sheer and Opaque finishes starting tomorrow at OCCMakeup.com and Obsessive Compulsive Cosmetics at 174 Ludlow Street in NYC. The polishes retail for $8 each.
I'm snagging that green. What about you?
Like this post? Don't miss another one! Subscribe via my RSS feed.