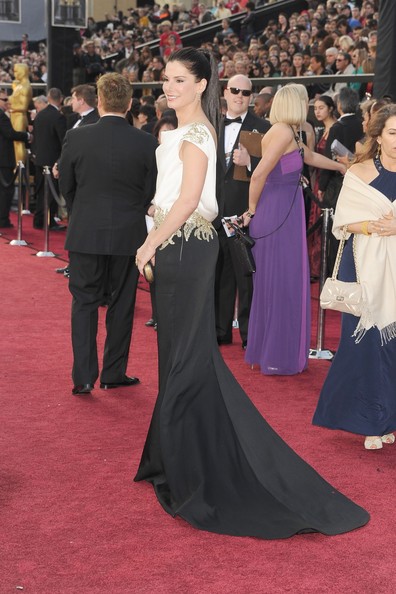 Sandra Bullock's pretty ponytail.
Tonight's Oscars red carpet had few dresses that set the world on fire, unfortunately (but shout-out to Gwyneth Paltrow and Jessica Chastain for bringing their fashion A game), but luckily for the beauty buffs among us, there was no shortage of high wattage hairstyles. Here, the top three hair trends of the evening.

Pretty Ponytails
From Gwyneth Paltrow's knocking-it-outta-the-park nape ponytail to Sandra Bullock's supersized style, tonight's Oscars ladies demonstrated some MAJOR ponytail prowess. Want to achieve your own pulled-back prettiness? Leave haphazard, unstructured ponys for the gym and get a glossy variation with Healthy Sexy Hair Soy Renewal Nourishing Styling Treatment.  A dime-sized amount applied to dried hair will garner mirror-like gleam. This miracle product reduces frizz, adds moisture and imparts amazing elasticity, thanks to ingredient Moroccan argan oil.
Viva La Volume
Angelina Jolie's bombshell hair, Glenn Close's amplified coif, Kristen Wiig's big beachy waves: Volume always works the sex appeal. To dial up the gravitas of your own gorgeous hair, spray damp locks just out of the shower with Big Sexy Hair Root Pump Plus Humidity Resistant Volumizing Spray Mousse. It gives thick/heavy hair super volume by pumping up the root with firm hold while protecting hair from humidity to keep it from getting flat. All that and it leaves hair beyond shiny.


Malibu Barbie Side-'dos
Maya Rudolph's curled side-swept long hairstyle and Stacy Keibler's iteration stole the show tonight. To get this stunning style, you'll need a little security to ensure your side hustle stays–well, on the side. Employ ample amounts of Big Sexy Hair hairspray, the flagship product of the Sexy Hair line.  I loe that it dries quickly, but imparts flexible hold that won't wilt in humidity.
Sexy Hair products are sold at salons nationwide.
What was your favorite hairstyle trend of the evening?
Disclosure: Product and compensation were provided by Sexy Hair  for this post, but all opinions herein are my own.