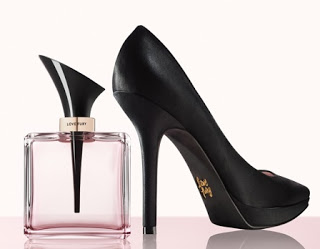 I'm super-psyched to share with you all an exclusive Q&A I did with the noses behind Nine West's new Love Fury fragrance, available now. I caught up with Firmenich perfumers Ilias Ermenidis and Hororine Blanc and scored the scoop on the process of creating the olfactory delight and what a typical workday's like for a master perfumer. Check it.
Beauty Blogging Junkie: Tell me a bit about the process of creating Love Fury–were there specific notes you wanted to incorporate?
Firmenich: In the development process, focus was paid to using ingredients that captured the specific emotions and sensations of the Nine West brand. The fragrance needed to embody a multifaceted vibe, possessing a unique energy and bold personality, while being undeniably feminine and sexy. Finally, it needed to appeal to those women who driven to experiencing all that life has to offer.


BBJ: What notes convey fury? Love?
F: Love is conveyed in soft, velvety textured Rose Buds and the creamy sweetness of freshly picked Jasmine Sambac–while Fury is highlighted by rich, Addictive Amber and the exotic vibrancy of the dewy Tahitian Tiare.
BBJ: In the approach to create Love Fury, was there a link with other arts? Cooking, fine arts, etc?
F: Music was very inspirational during the development of Love Fury. Like a great song the scent needed to start with a vibrant intro that immediately gets your attention (Citrus and Red Berries). Next, it needed to have an underlying beat you can't help but tap your foot too (Velvety florals and soft woods). And finally, it needed a catchy chorus, which sticks with you because it's just too good to forget (Addictive Amber and Rich Woods).
BBJ: What makes this a great romantic scent?
F: Romantic = seduction. Love Fury contains the perfect ingredient blend to bring this sensation to life. Pulling him in, the fragrance ignites his passion, through the vibrant freshness of luscious fruits and feminine florals. Once close, the creamy warmth of seductively soft musk and rich, precious woods keep him wanting more – this potent combination is a truly intoxicating signature that few will be able to resist.
BBJ: Can you describe a typical workday for the team who worked on Love Fury?
F: Inspiration often comes from outside of the office; therefore most days begin by channeling new found inspiration into new fragrance formulas. Those formulas are then passed to the Perfumer's assistant, who mixes all the materials together as specified by the Perfumer. Once mixed the Perfumer smells the new fragrance with the Fragrance Development manager. The Fragrance Development Manager or FDM is responsible for making sure the fragrance meets the needs of the current project. Suggestions are made and the perfumer returns to tweak the fragrance, adding a little bit more of this…taking out that. Following another round of smelling, selections are made on what to show the client.
BBJ: What do you consider the most important aspect of making a luxury fragrance?
F: Capturing the sensation of texture is key to creating a luxury fragrance. Whether soft and supple like fine leather or smooth and sleek like rare metal, luxury always involves a distinct texture that conveys quality and craft. In Love Fury, we used rich, velvety floral notes combined with raw precious woods. The effect is a luxury experience you can literally smell.
BBJ: What are some fragrance trends for 2012?
F: Brands will return to creating their own olfactive signatures. For several years now many have tried to mimic the most popular scents on the market. Shelves are now stocked full of many products that all smell the same. The effect will trigger a revolution where both celebrities and brands will look to create distinction in their scents, using new notes and developing distinct signatures that will be simply unmistakable–just like Love Fury.
Thanks, Ilias and Honorine! Want to score a sample of Love Fury? Head to Nine West for a free sample.
Like this post? Don't miss another one!
Subscribe
via my RSS feed.