Presented by Target
Sparkle, Neely, sparkle: This is the 2011 BBJ Holiday Gift Guide. For more gift-worthy items for everyone on your list, check out my other offerings.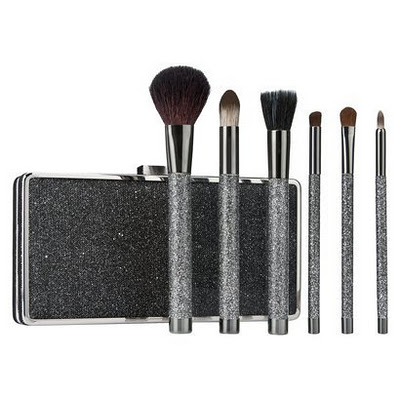 I have a promiscuous lack of brand loyalty when it comes to brushes of all types–except eye shadow brushes. For me, there is one and one only–the blue-handled large shadow Sonia Kashuk brush I bought about a DECADE ago in college. I'll experiment here and there with a foundation brush. I'll take a blush brush for a test drive. But when it comes to covering my eyelid real estate, nothing compares to the incredible blendability of Ms. Kashuk's wallet-friendly magical implement. Read on…

To express my feelings fully, I turn to the select musical stylings of Sinead O'Connor.
To replace my oft-used blending tool with one that GLEAMS? I am Jack's unparalleled DELIGHT. In my Supermarket Sweep-style Target trip, I scored the Sonia Kashuk Holiday 6-Piece Brush Set, all encased in a beautiful clutch that can be used on the town in addition to on your vanity. I can think of NOT ONE SINGLE PERSON of ANY demographic who would not be pleased as punch to receive this as a gift this season. From teens to your mother in law to your crazy Aunt Maude–they'll all enjoy "putting on their faces" with a little bling. And at $25? You'd be mad not to pick one up for yourself.  Say it with me: Holiday makeup goes on better when your cosmetic apparatus boasts beautiful brillance.
The Sonia Kashuk Holiday 6-Piece Brush Set retails for $25 at target.com. And if you're not in love by the black "night breed" iteration, there's also a fiercely festive silver one. Get involved.
Disclosure: Product and compensation were provided by Target for this post, but all opinions herein are my own. 
Like this post? Don't miss another one! Subscribe via my RSS feed.