Sparkle, Neely, sparkle: This is the 2011 BBJ Holiday Gift Guide. For more gift-worthy items for everyone on your list, check out my other offerings
.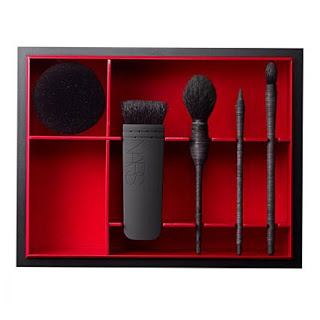 Kudos (or as Real Housewives' Ramona says, KUDOOZ) to Francois Nars for acknowledging that makeup brushes should be worthy of display, in addition to doing, you know, a job. That's why you should gift the makeup-hoarding Asiaphile with expensive tastes (if I had a nickel for all the ones on MINE) on your list with this beautiful bento-box of beauty delight created by NARS Cosmetics. Is it not the whisper of a summer BREEZE? Totally worthy of its own dynasty, this brush set will have your recipient saying, in the paraphrased parlance of a philosopher we both know (Paula Abdul), "Brush, brush, hurry hurry, lover, come to ME."
The NARS Nagauta Kabuki Brush Set retails for $225 at narscosmetics.com. Even if it's right next to you, it'll STILL BE TOO FAR AWAY.
Like this post? Don't miss another one! Subscribe via my RSS feed.