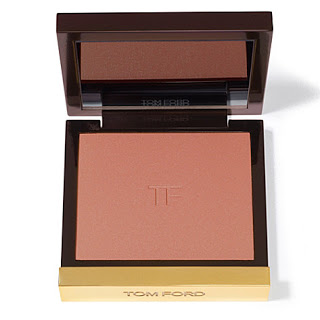 GOD, I was SO TIRED tonight. After a pretty hectic day of meetings and running all over Manhattan in this (Edina) monsoon, then imparting beauty tips to the women's networking circle at PricewaterhouseCoopers, incidentally, in the building in which I started this blog and THEN heading to Koi for some crispy rice AND THEN catching the Project Runway finale at The Style Coalition lounge.
But THEN (and this is the most important then) I came home and discovered that I'd gotten a little bag of delight with my favorite name on it, Tom Ford. AND THEN I SAW THIS NOTE:
I mean, though I'm the only blogger who has it in her possession, I'm not going to lie, it all felt very The Only Girl In The World, to quote Rihanna. I HAD to share photos with you guys. Though swatches aren't usually my thing, I needed to discuss with you via PHOTO ESSAY just how phenomenal this Tom Ford Cheek Color in Love Lust is. When you get a Tom Ford exclusive ANYTHING, well, you get moving on it. Especially when the formulation is, as this one is, to die. That name is no hyperbole. The consistency is creamy, though it's a powder formula, it boasts an incredible hydrating effect upon application. Cooling, almost. The consistency is pure luxury. Tip: If you're experiencing cheek breakouts, a cream blush will actually take off all your foundation/concealer handiwork, so opt for a hydrating blush like Tom Ford's until the redness fades. Some pics of the new blush:

The luxe packaging.
A swatch of Tom Ford Cheek Color in Love Lust without flash.
The beautiful Tom Ford cosmetics case.
The blush in its natural habitat, no flash.
A swatch of Tom Ford Cheek Color in Love Lust with flash.
The color is reminiscent of Nars Orgasm, but it's a pinker dialect of that language, which skews more peach. It also imparts the most subtle gossamer sheeridescence, as you can see in the pic above. On cheeks it makes my exhaustion much less apparent and gives me a just-made-out-for-hours warmth.
What are your initial thoughts on Tom's foray into ROUGE? I can't wait to see more from the collection. The scandalous names are almost as desirable as the end-of-the-spectrum glamorous items themselves.
Signing off with a little Rihanna.
Like this post? Don't miss another one! Subscribe via my RSS feed.