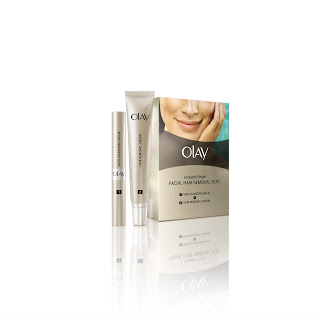 So, facial hair isn't the SEXIEST of topics, but this is a safe space, right? And to ensure we're not unwittingly pulling a Frieda Kahlo, we have to keep up with that shiz stringently. Check these stats. According to a 2010 Olay global survey of 6,600 women:

*Women are as concerned about unwanted facial hair as they are about their fine lines and wrinkles
*41% of American women think visible facial hair (in certain areas) is not socially acceptable
*85% of women remove facial hair occasionally
*4% of women remove facial hair daily
For the time-strapped, doing this on the cheap and in the privacy of our own homes is key. Also, ELLE pointed out years ago (and I've never forgotten) that a simple clean-up of the fuzz on your jawline and "sideburn"/cheek area can make you look slimmer and more sculpted. Even if this hair is light (as mine is), depilating it every few weeks will leave smoother, more beautiful skin in its wake. Of course, if your formula is irritating or you have sensitive skin, tiny red bumps, rashes and even breakouts won't look much better than the peach fuzz itself.  The age-old conundrum: How to safeguard your skin by creating a barrier between it and an abrasive hair dissolver?
Use a balm first to prep the area, as the skin-care gurus at Olay geniusly devised via their new Olay Smooth Finish Facial Hair Duo ($25), a two-part system which includes a skin-guarding balm and hair removal cream in easy-to-dispense tubes. An hour after using, my skin not only is flawlessly as hairless as Dr. Evil's feline friend, it's actually in better condition than before. The removal cream is water-based, infused with a light, fresh scent–none of that standard-issue eau de depilator–instead it smells pleasant, as you've come to expect of all Olay items. It's recommended for removing fine to medium hair.
Buy the Olay Smooth Finish Facial Hair Remover Duo at amazon.com.
Disclosure: Product and compensation were provided by Olay for this post, but all opinions herein are my own. 
Like this post? Don't miss another one! Subscribe via my RSS feed.