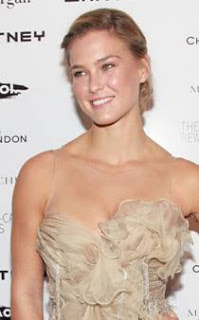 Israeli women are known for their natural luminous gorgeosity and here, Bar Refaeli showcases that quality to perfection. "Bar's Marchesa dress was so intricate that we thought the makeup should be more fresh and elegant to give her an ethereal look. It was unexpected to see such a natural look stand out on the red carpet" said Nico Guilis, celebrity makeup artist who created the look for the model.
Products that Nico used to create Bar's glamorous look:

· Malibu and Copacabana Multiple (on the cheeks, eyes and forehead)
· Mata Hari Blush
· Laguna Bronzing Powder
· Lola Lola Eyeshadow
· Nico Blush (on the eyes)
· Sex Machine Velvet Matte Lip Pencil
All products, except where noted, are available at narscosmetics.com.
What do you think of Bar Refaeli's look? And P.S. I REQUIRE that Marchesa dress.
Like this post? Don't miss another one! Subscribe via my RSS feed.