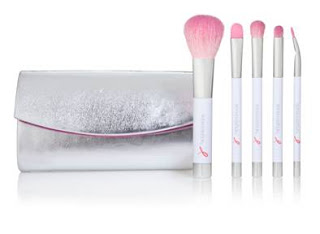 I didn't think Sonia Kashuk's makeup brushes, the single best drugstore brushes on the planet, could get any better, but alas, they did. Best of all? This isn't just an October thing to benefit breast cancer research. Read on to find out more…



Target and Sonia Kashuk, breast cancer survivor and professional makeup artist, have partnered with The Breast for the fifth year in a row to create an exclusive brush set to raise money to support the fight against breast cancer.


The Proudly Pink Five-Piece Purse Brush Set ($15) will be available until August 21, 2012 with 15 percent of the purchase price to benefit BCRF.  Housed in a stuctured silver and pink-lined makeup case, this signature set includes a Powder/Blusher Brush, Crease Brush, Synthetic Foundation/Concealer Brush, Small Eyeshadow Brush and Bent Eyeliner Brush. In the paraphrased words of Pretty in Pink's Duckie, it makes for a really volcanic makeup brush set, really marvelous.
Sonia once shared this invaluable tip at a makeup class she taught for beauty editors recently. Before applying powder shadow on top of a primed lid, you first need to change the texture to powder by lightly powdering the lid with a loose powder to get the shadow to adhere. I've been doing it ever since and it works beautifully. Try it and let me know how it goes.
Buy the Proudly Pink Five-Piece Purse Brush Set at target.com.
Like this post? Don't miss another one! Subscribe via my RSS feed.