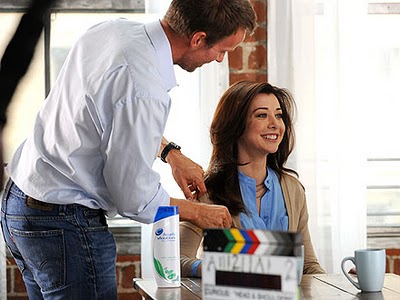 Funny gal Alyson Hannigan (and star of How I Met Your Mother), the newest ambassador for Head & Shoulders, has partnered with the brand to launch the Good Girlfriend Guide, a lighthearted book that tackles the head-scratching behavior every girl deals with from dating mistakes to beauty conundrums by allowing women to share their best advice with one another.

On HIMYM, Alyson's character Lily is the ultimate friend to Marshall, Ted, Barney and Robin. I loved that in the episode "Mosbius Designs," Barney describes her as "A diabolical puppet master, manipulating every single situation to get exactly what she wants, she is pure evil," and tells Marshall that he has "a good one there, hang on to her." Also, it was rather genius that Lily lists her special skills and interests on her resume as:
"Competitive Speed Eater (can eat 33 hot dogs in 8 minutes; New York City Speed Eating Champion, Junior Division, 1995), Painting, (Oils, Acrylics), fluent in Italian, certified in Teaching English as a Second Language, Proficient in Photoshop, Quark, Java." Hilarious. One of my fave scenes of hers is when it's discovered she HATES the word "moist."
Alyson told People.com that "The Good Girlfriend Guide is a great manual of great advice that girlfriends give each other. It's nice to know you're not alone in your boat." She went on to add that one of the tips that she wants to share is that as a new mom, you have to spend less time on yourself, which may mean choosing between doing your makeup or your hair. Hannigan advises to choose your hair, saying, "If you have great hair, you can wear sweatpants and still look chic." I certainly attest to that.
She also noted that although she may be able to dish out the advice, she has also had plenty of misshaps of her own. "I've had terrible faux pas of wearing a dress backward, which was supposed to look trendy, but it just did not work," said Hannigan. She's encouraging ladies to share their stories and their advice online on Head & Shoulders for Women Facebook fan page–you'll also have a chance to get that advice published in the guide, and win a VIP trip to Los Angeles!
Check out the Head & Shoulders for Women Facebook fan page here.
Disclosure: Product and compensation were provided by Head & Shoulders for this post, but all opinions herein are my own. 
Like this post? Don't miss another one! Subscribe via my RSS feed.