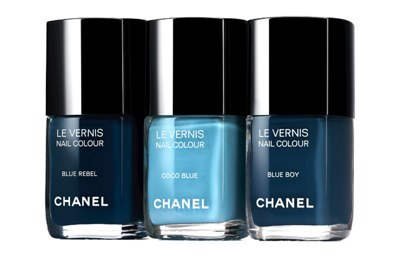 Greige shades are so 2009.
The shade you'll be wearing all over your lids and talons is BLUE. Blue is the beauty color of the season, friends. CHANEL has debuted its Les Jeans de Chanel, the highly-anticipated nail collection created exclusively by Peter Phillips, creative director of Chanel makeup. Always creating trends that others follow, Peter has developed a trio of blue lacquers, inspired by quintessence of casual chic: denim. I love it because the hues are still subdued, muted. The three colors are a gradation from dark to light, but maintain a grey undertone for a murky effect.
Murky and Turkey Lurky, from Rainbow Brite
The le vernis shades are Blue Rebel, Blue Boy and Coco Blue.
The Les Jeans de CHANEL collection will be sold exclusively at Chanel boutiques and online at Chanel.com through the end of the month. I'm rocking Blue Rebel as I live and type and I ADORE its slate sexiness. It reminds me of twilight in Tahiti. Will you be going Chanel-Nail-Polish insane over these? TELL!
Like this post? Don't miss another one! Subscribe via my RSS feed.