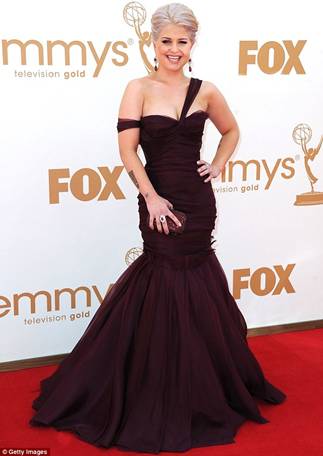 Kelly Osbourne's beautiful Emmys 2011 makeup look was created by MAC Cosmetics senior artist John Stapleton, which I've been pronouncing in my head as Stape-le-ton, the way Balky Bartokomous pronounced Larry App-le-ton on Perfect Strangers. Let's find out how Kelly Osbourne stood tall on the wings of her dreams, shall we? 


"To compliment the Jay Mendel dress in Aubergine, we decided to go for a more graphic eye, paying tribute to Sofia Loren," explained John. Read on for more details on how to recreate this look on your own. 



The brows are groomed up with clear brow set and perfected with M·A·C Eye Brows pencil in Lingering. The eyelids were softly swept with Vex Eye Shadow. Powerpoint Eye Pencil in Permaplum is smudged along the lash line and placed in the crease in a distinct V shape. Shadowy Lady Eye Shadow is pressed into the crease and blended out softly. Blacktrack Fluidline is used to create a sharp luner above and one below. Tons of Zoomlash Black Mascara and of course a #1 Lash to pump up the liner. The cheeks are contoured with Mineralize Blush in Dainty and the lips- a new Sheen Supreme Lipstickcalled Fashion City. Of course Blot Powder Pressed is making a guest appearance in the heat!
Want more info from John Stapleton? Follow him on Twitter:  @MAC_John_S
Gorge! What say you about Kelly Osbourne's Emmys makeup?
Like this post? Don't miss another one! Subscribe via my RSS feed.