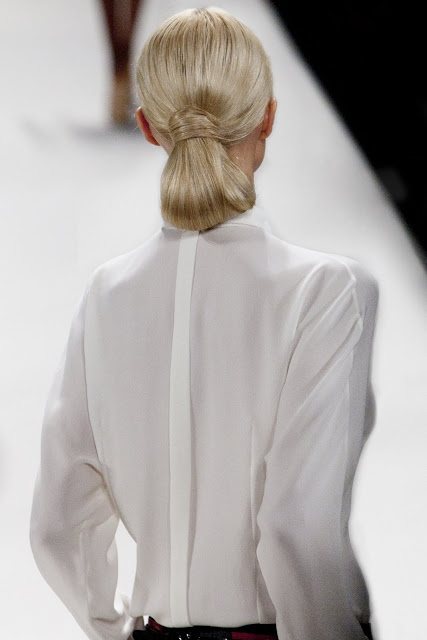 Credit: Moroccanoil
It was all about subdued pink lips and triangle updos backstage at Carolina Herrera.

The beauty effect at Carolina Herrera was elegant per usual, combining a softly brown shaded eye and a creamy pink mouth against a backdrop of a simple triangular ponytail-bun hybrid. Triangles in Geometry class call to mind complicated theorems and proofs, but this tear-drop shaped hairstyle is easily achieved even in one's own bathroom (the real woman's "backstage."
Triangle Man and lead stylist Orlando Pita maintains that "healthy, clean-looking hair was important to the success of this look." To create an easy, young and fresh updo, Orlando began by blow-drying the models' damp hair with the Moroccanoil Hydrating Styling Cream to straighten and provide soft hold. Moroccanoil Light was applied on ends of those who needed it. Next, Orlando created a middle part before gathering the hair back into low pony, looped through but not pulled all the way out and then wrapped around the elastic like a teardrop. Said Orlando, "It's not a complicated effect. Carolina Herrera wanted people to look at it and know it's simple." Orlando then pulled out wisps in front of the ears to loosen and soften the style before giving a final spritz of Moroccanoil Luminous Hairspray. "It gives great hold, but still lets the hair move," explained Orlando.
Credit: BBJ
Diane Kendal for MAC Cosmetics opted for a classic, subtle makeup concept. A tree-bark deep brown Greasepaint was slicked onto the eyelids up into the contour, then blended out to an earthy whisper of color. "It gives a really beautiful sheen and offsets the silks in greens, yellows, turquoises and browns of the collection," explained Diane. Brows were left neutral and simply brushed, filling in with pencil where necessary. She then swept MAC Sculpt & Shape Blush underneath the cheekbones, layering a little of the Baby shade onto the apples. Then, she added an orange blush on top of the apples for dimension. Lips were accentuated with a combination of three pinks for a feminine pop of color.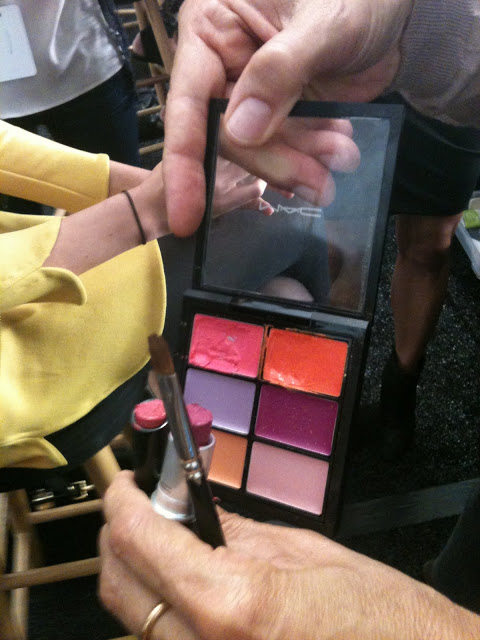 The three pinks Diane mixed. Credit: BBJ
Essie nail artist Elle opted for a "sheer mauve-pink, a little drop of color" so as not to overpower the collection's prints. Said Elle, "Instead of a bold neutral, we wanted something more sheer, subdued." Elle painted on a single coat of Best Boyfriend (neutral mauve pink) after prepping the nails with a base coat. Then, she followed up with two layers of topcoat for a shiny, glassy finish. Elle doesn't dictate a nail shape, going instead for the shape that matches that of the models cuticle. "It always looks better to go with what the girls naturally have," she pointed out.
What do you think about this look? It's intensely wearable. Will you rock it?
Like this post? Don't miss another one! Subscribe via my RSS feed.